I think most of you know what Lent is, but since I got some questions here is a Cliffsnotes version:
Lent is a (mostly Catholic) tradition of prayer, observance and fasting in the 40 days leading up to Easter. Today is Ash Wednesday, so Easter is 40 days from now. (Note: I just wrote "Eater" instead of "Easter" because I'm preoccupied with food.)
I was raised Catholic and have been giving something up for Lent since I remember. Even though I don't attend a Catholic church now, I still observe Lent.
(This pic is me and my bff in third grade. I am big boned or she is tiny boned, pretty sure it's the former.)
For the next 40 days (and nights) I am giving up sweets and diet soda. To me sweets are cookies, cake, candy and ice cream.
I decided not to give up all sugar because that immediately seemed a little obsessive. Plus, people were all over me and really I am going to get all the judgment I need from Jesus.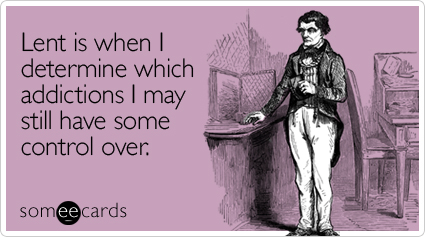 So that's that.
I ended up doing a slow 5 miler about 2 hours after breakfast. Yeah, my body prefers to run when it's still asleep and it was rough.
Plus, waiting meant it was pretty warm and I was thirsty when I got back. I immediately chugged water and had an apple. Like my new water bottle? It's massive.
Lunch was an egg salad sandwich.
With chips.
Dessert was a finger of this new banana PB from the jar. It's good.