I remember the first time I had a portabella burger. It was during freshman orientation at Whittier College (I ended up transferring after freshman year). I had recently decided to take veganism for a spin, but knew nothing about being vegan or even vegetarian for that matter.
I remember being so impressed and almost awestruck by the flavor and meaty-ness of the portabella. I didn't miss meat for one second 🙂
I made Portabella Mushroom Burgers for dinner tonight. (Ben had a turkey burger.) I rubbed the mushroom with olive oil and dusted on some season salt. Then, I grilled them on the Foreman. Once it was properly charred I topped 'em with cheese and stuck it under the broiler. The burger completely fell apart as I was eating it so I could not be a lady, but rather just attacked it.
The key to making a portabella burger is the fixings – you must have good condiments: mayo, ketchup and mustard and of course lettuce, tomato and onions! It looks like a "regular" burger to me!
I also had some chips and salsa in lieu of fries (but I really wanted fries!).
I just finished off the last few pumpkin oatmeal cookies and a few pieces of dark choc – now I am sipping some gingerbread tea to keep myself "busy". I've been very "snacky" today. Old habits die hard.
OJ – I had a lot of questions about the light Orange Juice I was drinking this morning.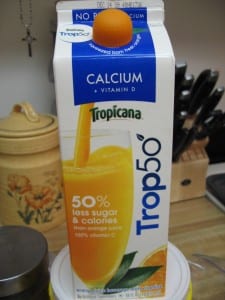 One of the reasons it is less caloric is the first ingredient is water, but it also has added ingredients to make up for that. Here are the ingredients…
I already have homework for school – better get on it! See you tomorrow 🙂
Run SMART Goals
Fill out this form to get the SMART Running Goals worksheet to your inbox!