I have an announcement to make – I am now I full time blogger! (I am obviously trying to look on the bright side of things.)  I am definitely bummed about my job (or lack thereof), but I am moving forward and not going to dwell on it. In addition to blogging I will be writing for some other sites and doing freelance work. Oh, and looking for another full time job! I already wrote out a schedule for myself so I don't waste any time being productive.
I really really appreciate all your kind comments. You are helping me stay positive 🙂 Thank you.
When I got home I talked it out with a friend over a walk. Then, I got back home and chewed a pack of gum. I'm currently on my second pack. At least it's not cigarettes.
My afternoon snack was yogurt, a whole mango, pineapple and cereal. I added a scoop of cottage cheese after the pic. I think I am starting to like cottage cheese more than yogurt. That's good because I bought another Costco tub of it!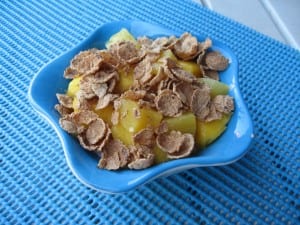 I considered slacking off for dinner and ordering a pizza to drown my sorrows, but I didn't. I made eggplant and chickpea pasta. I cooked up a whole eggplant with a can of tomato sauce and a can of tomatoes (with the juice) plus garlic and spices. Then, added tempeh and chickpeas – served on top of whole wheat pasta. I love tomato based sauces!
Now I am enjoying a pineapple juice and Malibu Rum adult beverage – I deserve a drink tonight, don't you think?
Thanks again for the support 🙂 Hope you're having a better day than me!
Run SMART Goals
Fill out this form to get the SMART Running Goals worksheet to your inbox!