I took an afternoon walk today at 5pm. It was dark. That makes me sad 🙁
But, this new granola cereal makes me happy 🙂 A little too happy actually. Note to self: Granola should not be eaten by the handful out of a box like it's air or out of a cereal bowl like it's Rice Krispies. It's granola.
My other afternoon snack was an apple and Amazing Grass. I am only on day 2 of drinking the grass, but I really feel good!
Dinner was on the light side because I ate a ton of chickpeas while cooking for Ben. I had roasted brussels and soup.
I also drank a POM spritzer. At first I wasn't feeling the Pomegranate Kiwi flavor, but I am totally loving it now!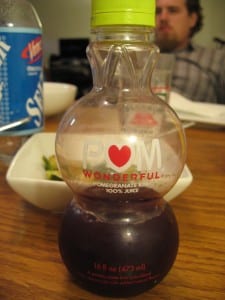 Oh, and of course my light dinner meant room for dessert. Ben asked me if I was hungry when I went to grab the Vitatop (he is aware of my Back on Track challenge). My honest answer: "No, I'm not hungry, but I've been planning to have this Vitatop all day and made sure my dinner left room for it." I am still sticking with the Back on Track, I am done eating for the evening.
I really have to get away from the computer! I will check ya in the morning 🙂
Run SMART Goals
Fill out this form to get the SMART Running Goals worksheet to your inbox!