Today I went on a mission for energy beverages to give me a boost during my afternoon slump. I came back with two things – Zevia soda (which I've already tried) and Zenergize. Both are sweetened with Stevia 🙂
Zenergize are drink tablets with B vitamins, anti-oxidants, ginseng and caffeine. I haven't tried them yet, but I'm excited to see if it works 🙂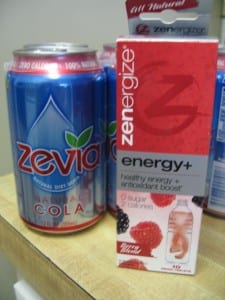 I also walked out of the store with this gum – Peelu Dental Chewing Gum. It is kind of dry and doesn't have a very strong mint flavor. I probably wouldn't get it again.
I also made a bathroom break at Starbucks and followed my "don't pee and run" rule by buying an iced coffee. I worked at Starbucks for two years during college and could not stand the taste of it at all. Now I am burning my money on the stuff left and right. Uh!
I also noticed the unfortunate name of a local restaurant : Coco's Butter Cafe. Really? Sounds like Paula Deen's kinda place, or Ben's, he loves butter and proudly uses it anytime he cooks anything.
When I got home I broke into my new load of ww Cinnamon Raisin Bread and Crunchy Almond Butter 🙂
I didn't even take a picture until I was almost done. Oops 🙁 I am completely lacking any veggies and fruit today. I better have a veggie filled dinner!!!
I almost forgot I am going to Florida this weekend! This trip means another change up in my marathon training. I can't do a long run this weekend because of time constraints. So the plan is:
Friday: 10 to 12 miles
Saturday: 8 miles
Sunday: Rest/Walk
And the long run plan for the rest of my training:
12/12 – 20 miles (we'll see how that goes)
12/19 – 20 miles
12/26 – 12 miles
1/2 – 8 to 10 miles
I am scheduling two more 20 milers because I never really listening to my training plan and will probably cut one short. I'm a rebel like that (or very undiciplined,whatever).
I am very excited to almost done with the long runs because anything over 14 miles and I don't really enjoy it or look forward to it. I am a half marathon-er like that.
Run SMART Goals
Fill out this form to get the SMART Running Goals worksheet to your inbox!