I love fresh starts so I woke up with a smile on my face this morning knowing today was the start to a new year 🙂
Even though it was icy out I really wanted to start the year with a run. I bundled up and set out for a 4 mile run/slip and slide/walk/tip-toe. It was even more slippery than I thought in some places and my heart skipped a few beats every time I almost fell.
I came back home and woke up Ben and he joined me on a cool down walk (this doesn't make sense because I was already cold as all heck, but whatever). I also stole a handful of cereal while I was waiting for him 🙂
The first meal of 2010 was a big bowl of oats with banana, soy milk, chia seeds, Truvia and PB. This really filled me up, but I got hungry an hour late for some reason?
I am low on fruit, but Costco is closed today (learned that the hard way). So, we hit up a few stores that were open and I got a pair of running capris I may wear to the Marathon.
Problem: I can't do a "dress rehearsal" of what I will wear race day on a run because I haven't worn warm weather running gear for months and may have added a few pounds to the mix (thanks for nothing tamales!). Hmmmm. I'm in the process of figuring this one out, but I will most likely just have to hope and pray whatever I wear is okay.
I ate this Amy's meal for lunch because I was only half heartedly paying attention when someone was talking about how black eyed peas are lucky to eat on New Year's Day. At least I ate some, right?
I had some dried mango for dessert – this stuff is Natures real Candy 🙂
And a small bowl of cereal a bit later…exciting times, I know.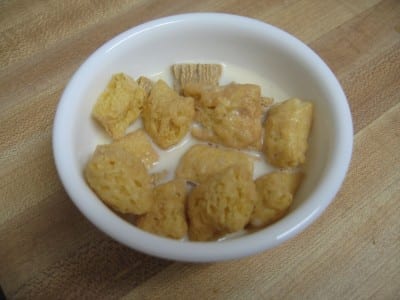 Well, Day One of 2010 is almost over and I don't feel like I've done anything life changing yet. I better get on that!
I did spot this cute post card at the book store, but I have much more to accomplish today…
See you in a bit 🙂
Run SMART Goals
Fill out this form to get the SMART Running Goals worksheet to your inbox!