Yesterday I really needed to take a walk to clear my mind, but it was way too cold for me to go outside. I opted for a walk on the treadmill with my book: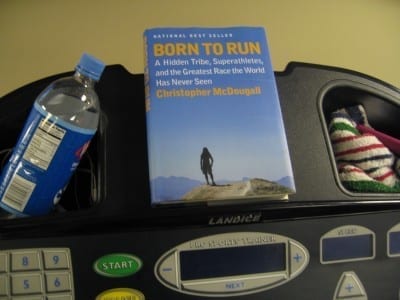 Then it was pizza for dinner 🙂 Pizza is one of my favorite foods (coming in close second to ice cream of course). His side has some kinda of polish sausage, mine has tomatoes.
I made some roasted brussel sprouts with onions on the side. I know this is kinda gross, but all I did was spray the onions with cooking spray and salt and roast them. I basically ate half an onion straight up this way. I probably stink, but it is so good!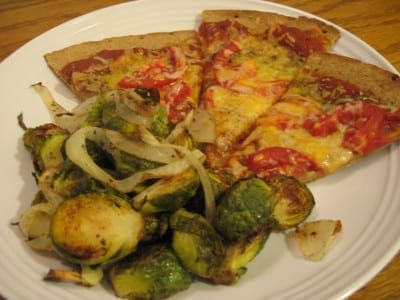 I thought it was funny that Ben was wearing a beanie inside yesterday- he  just couldn't get warm! I think the MD cold is too much for this Florida boy and California girl when we are constantly talking about moving.
Plan Ahead – Today I woke up and did 4 miles on the treadmill and Ben did some elliptical time. Then, I went back to the apartment to make Ben's lunch since his was running late. I decided I should make my lunch too since when I work from home I am snacking in the kitchen a lot. So I put together most of my lunch and planned out my snacks for the day. Hopefully, this will keep me from grabbing random handfuls of cereal and crackers!
Breakfast was a struggle for some reason. I am convinced oatmeal is the "healthiest" breakfast around. But, it's not my favorite. Don't get me wrong, I like it okay, but I love other breakfast choices like cereal, bagels and pancakes more! I ended up going with oatmeal though. I don't know if that's good or bad.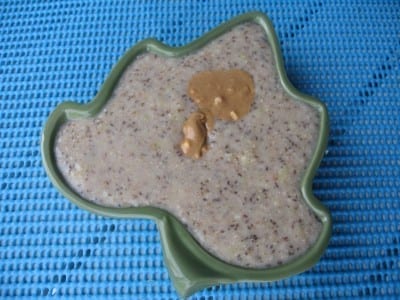 I am such a procrastinator I have a list of nine things I have to get done today! See you later 🙂
Run SMART Goals
Fill out this form to get the SMART Running Goals worksheet to your inbox!