I'm currently sipping on iced coffee. This is kinda weird for me and got me thinking – "Who am I?"
I have recently developed this new coffee habit and didn't really think anything of it until I keep reading about so many people who try to cut back on coffee. I figure it's a lot better than Diet Coke (especially when I sweeten it with Stevia!). I'm not too stressed about my random vices – except nighttime snacking.
I ate lunch in parts, starting with a big salad topped with TJ's peanut dressing and chickpeas.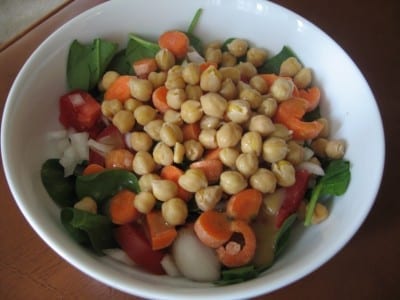 Then, I had a bagel with PB&PB and cherries. Cherries are probably my most expensive "vice".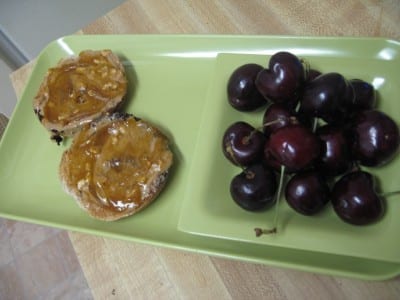 I added a new page to my About tab – Pictures. It was weird how looking at pics of my life and thinking about all my weight fluctuations is kind of emotional.
Question: Do you have any habits that other people think are "bad", but you'll keep on doing anyways?
A: I'm sticking with incorporating more coffee into my life – I'm hoping all the claims about increasing athletic endurance and curbing your appetite are true 🙂 I think this vice is actually kinda lame, I wish I was addicted to hookers and blow… at least it would sound so cool.
Run SMART Goals
Fill out this form to get the SMART Running Goals worksheet to your inbox!