I am still recovering from the marathon, so I'm not sure if the different body aches are illness or mary related. One thing I do know is milk based hot chocolate was a bad idea last night since I am coughing up things that shouldn't be discussed in public.
The week after a marathon is called Zero Week. Hal Hidgon has a great breakdown of exactly what you should do (or not do) in the time after the race:
Generally, it takes a minimum of two to three weeks for the body to recover from the strain of running 26 miles 385 yards. Return too quickly and you increase your risk of injury. Some experts suggest resting one day for every mile you run in the marathon, thus

26 days of no hard running or racing!

Others suggest one day for every kilometer, thus 42 days rest. Often the determining factor is not how quickly your body recovers, but how quickly your mind recovers, since you temporarily will have lost your main training goal. Olympic champion Frank Shorter says: "You're not ready to run another marathon until you've forgotten the last one."
I plan to take it easy for the rest of the week and then start getting ready for my half marathon (Feb. 7th) next week. My body feels surprisingly well considering how much I battered it on Sunday 🙂
My Marathon Recovery – Tuesday/Day 2 after the marathon: My legs are a little sore and tired. My neck/shoulder area is also sore. Immediately after the race my knee was hurting, but that has pretty much went away.  Overall, my muscles feel very tight and should probably spend some time stretching. I have the energy to go for a walk and I want to make sure my muscles stay relaxed so that's the plan for today.
While I was making breakfast I snacked on a ton of blubes: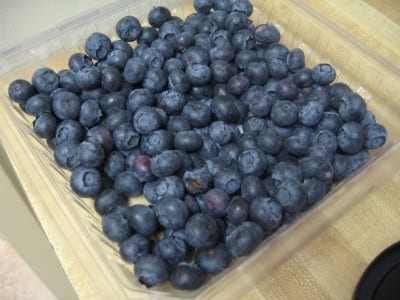 Breakfast was oat bran with soy milk, chia seeds, vanilla, cinnamon, stevia and topped with PB. I really wanted to add cottage cheese, but thought the dairy would only make my cough worse.
Yesterday I picked up a set of three water bottles from Costco (I seriously plug that like Costco is my last name). I lost my precious HUGE water bottle at some point on our way to Florida 🙁 I was devastated.
Since that water bottle was so big it takes three to fill it's place in my heart. I was thinking about giving one to Ben, but then I realized that would be silly. I am going to fill them up every morning and make sure to drink them all each day. Actually, drinking water is never a problem for me  not counting Sunday's marathon where I convinced myself I was over-hydrating and wasn't letting myself drink enough.
I will see you all in a bit 🙂 Make it a great day!
Run SMART Goals
Fill out this form to get the SMART Running Goals worksheet to your inbox!