Even if you don't have a GPS you have probably been in a car at one time with one. If so, then you know what happens when you go the wrong way…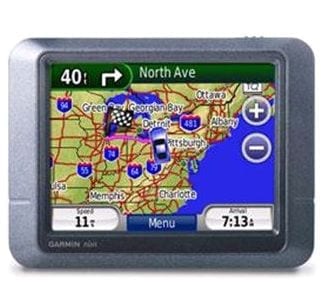 Suddenly Tomtom (or whoever is directing you) says, "What the hell you loser?! I told you to go left, why did you go right?! You are stupid…"
No. That is not what happens. The GPS actually says, "Re-calculating…" and finds you a new way to your destination.
What do you tell yourself when you go the wrong way on your diet plan? Do you calmly re-calculate and get back on track or do you berate yourself?
My day started really well. I had a meal plan all set up and my morning snack was almonds and an apple.
That snack didn't hold me over for long so I ate lunch (mexican pizza) and one of these bars.
Everything was going great until my afternoon snackage. I went a little crazy with the chocolate chips.  I have to admit that I really want to get very mad at myself. That's not going to help anything, but it's hard not too be pissed when you're bloated and coming down from a sugar high.
They were part of my afternoon snack, but I went a little crazy after this.
Well, now I'm re-calculating and getting back on track 🙂
I ate a healthy dinner of beans, brussels
and part of Ben's potato skin. That thing was as good and gooey as it looks. I had a small dove square for dessert and now I'm calling it a night.
This is kinda gross, but Ben and I still had the wish bone from T-day hanging around so we grabbed a side and made a wish.
I didn't win 🙁
I'm jumping on the Ask Me Anything bandwagon!
Click here to ask me an anonymous question.
It can be about anything and feel free to ask Ben a question too! Example question for Ben, "Does Monica subject you to the same lame, inappropriate jokes that she posts on her blog?"
Run SMART Goals
Fill out this form to get the SMART Running Goals worksheet to your inbox!