Hello hello!!! Glad to see everyone loves Heather's Guest Post! If you haven't checked it out yet – do it now 🙂
This morning I made "Pumpkin Over-Run Oats" for breakfast. They were basically overnight oats, but I just let them sit during my run and not overnight. I have found an hour or so is enough time for oats to get soft and soak up the liquid. Estimated in the mix: 1/3c oats, 1/3 yogurt, 1/3 pumpkin, 1/4c soy milk, chia seeds, stevia, cinnamon, salt and pumpkin pie spice. Mix and let sit for an hour or so.
I added more soy milk and topped it with granola and almond butter to eat.
More Anonymous Questions…
Question: What are some of your grocery staples?
Monica: There are a few things that I always have on hand. Even though I "officially" became veg again this year, I really have been 98% vegetarian (sometimes vegan) for over six years. So, I always have protein in the form of veggie burgers, yogurt or cottage cheese, hummus and beans.
Since I'm a self proclaimed carb lover I have multiple types of bread and cereals around. I currently have wraps, regular bread and sandwich thins plus four kinds of cereal, oatmeal and oat bran.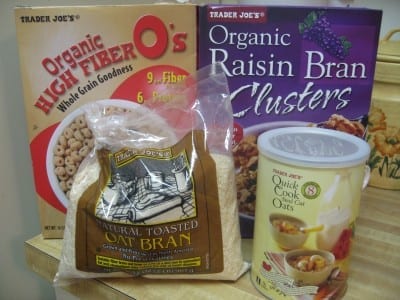 I also always have a lot of fruits and veggies. Even though it's just Ben and I living here I still shop at Costco for my produce. This means I keep a contant stock and try to eat it all before it goes bad!
When it's in season you will always find watermelon in my house. I buy them two at a time and eat it crazy style.
And I wouldn't be able to call myself a self respecting healthy lifestyle blogger if I didn't have several nut butters and nuts in my kitchen! I also have trail mix, but if I got that out for a pic I wouldn't be able to stop myself from digging in 🙂
Question: How did you get your blog out there and create such a large reader base? Was it just commenting on other blogs? And how many page views do you generally have each day? Do you still comment on a lot of blogs?
Monica: I started this blog two years ago from the end of this month – wow, time flies! My reader base mostly expanded through commenting or links from other blogs. Since I was in CA until recently, and I feel less bloggers live in that area, I wasn't able to do many blogger meet-ups and make friendships and connections that way.
I don't comment on blogs half as often as I'd like to, but since the new year I've been making a huge effort to make more comments and let other bloggers know I'm reading 🙂
Question: Do you ever get tired of or upset about peoples' comments on your blog? I know people are really blunt and overly critical over the internet and when they comment and I think it takes a strong person to deal with all that. Just wondered your thoughts…
Monica: I don't really get mean comments on Run Eat Repeat. I actually don't know why not? I do know from speaking with other bloggers, that people say really mean things in comments and I don't get it.
My theory: I think meanness often comes out of jealousy and since I am so open with my faults on the blog, people don't feel the need to be jealous or cut me down. Wait, should I be sad that I'm so lame no one feels jealous of me? Boo.
I have never gotten a comment that was so mean I had to delete it. I think I would if it was just mean spirited and would potentially offend other readers, but I haven't had to yet.
My other theory:
I think all my readers know I'm…
a.) Mexican
b.) from Pico Rivera
c.) Bigger than them
and would rather not f with me 😉
Note: I will answer all questions, but I'm going a little out of order as I've been answering some of the shorter ones lately. If you have an anonymous question for me ask away here!!!
Wait, I run!
I was having so much fun answering questions I almost forgot I ran today! I did a treadmill speed work-out based on Meghann's Fartlek run from last week. It was difficult! And I think  fartlek (pronounced fart-lick) runs are a lot more fun outside. The word literally means speed play, so shouldn't it feel like playing?
Run SMART Goals
Fill out this form to get the SMART Running Goals worksheet to your inbox!