I think I have been living in a constant state of depression and didn't even realize it! Because I am way too happy right now. I'm happy to be outside and not wearing five layers, see my dogs, smile, thaw out… I could go on 🙂
My mom faked me out with Greek yogurt in the fridge, I got excited until I realized it had expired. Boo. So, I took a quick walk to the store for some essentials. The closest store doesn't have greek yogurt so I had to do my best with that choice, but I do love those bagels!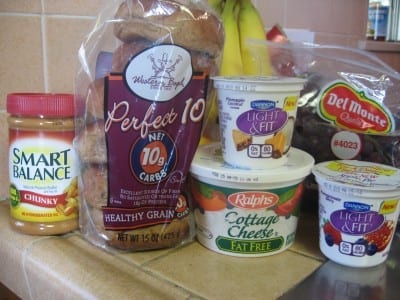 Then, I made myself a big bowl of cottage cheese, cereals, fruit and PB. That new PB is not very good, by the way.
Now I am going to take the perros for a walk and then drive down to San Diego to pick up Ben. He is wrapping up his work conference today and will be hanging out the rest of the time with us. SD is about 2 hours south of here – let's hope I don't hit too much traffic on the way back!
I've also come up with a completely ridiculous plan for preparing for my next race! Yeah!
See you later…
Run SMART Goals
Fill out this form to get the SMART Running Goals worksheet to your inbox!