Wow, these last few days of not running have made me realize how much running impacts my appetite! I have definitely not been as hungry as usual. It has also been a little bit easier to avoid night time snacking! That is the one pleasant surprise to come out of my very sad running-less days 🙁
So, as long as I eat according to my hunger and NOT according to my habits then I'll be okay during this time off 🙂
After kick boxing I had to stop by school, then the store and now I am scarfing down lunch before my PT appointment.
I made a veggie burger on a sandwich thin with hummus and ketchup.
On the side I had sweet peppers that weren't sweet at all. These are the worst sweet peppers ever. Boo.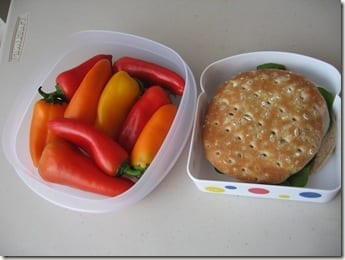 I changed the appointment for my MRI reading to tomorrow – I'm very anxious to see what it shows!
But, for now I've got to jam out of here and get to my appointment! I haven't been able to spend more than 5 minutes at the computer today – so I'll respond to comments and questions later tonight 🙂
Run SMART Goals
Fill out this form to get the SMART Running Goals worksheet to your inbox!