I had some pumpkin in the fridge that needed to be eaten before it went bad, so last night I added it to overnight oats. For some reason I'm still in my "not feeling oats" phase though. I had been hoping that I'd use the pumpkin in a bowl of pumpkin oatmeal, but it never sounds good to me.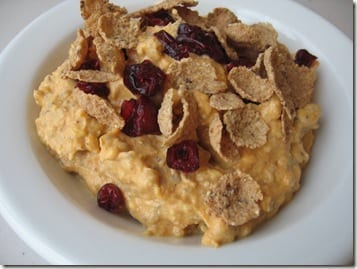 Even these overnight oats were just okay. I kinda am making myself eat it because I don't want to waste it.
STOP.
After I typed this sentence I realized it was dumb. I was not enjoying my breakfast at all and really didn't see the point of "making myself eat it".
So, I threw the rest away (I was about half way done) and made a small cup of cereal with soymilk. But this was not much better as I gave up cereal for Lent and could have picked a piece of toast with PB or fruit or something.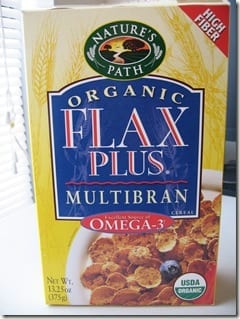 This breakfast was a complete FAIL because first I was making myself eat something I didn't want, then I ate something I gave up for Lent!
I was talking to my friend yesterday and I told her I couldn't eat a few things she was mentioning because I gave up sweets for Lent. She said God has bigger things to deal with than if you eat a cookie.
I agree with that on some level– HOWEVER, giving up cereal for the few days that have already passed has made me realize how much I randomly grab handfuls of it, pour small bowls of it throughout the day and go back for seconds when I put it on yogurt. I eat A LOT of cereal!
I think I am going to go back to sticking with my Lenten promise and find some other options for breakfast for now 🙂
Run SMART Goals
Fill out this form to get the SMART Running Goals worksheet to your inbox!