Before we get to the bummer part of my day I thought I'd share my latest and greatest easy meal creation  – aka "So easy your dog could make this"  recipe:
Orange Cranberry Couscous
Ingredients: 1c OJ, 1c ww couscous, 1/3c cranberries, 1c cooked chickpeas, salt, 1 Tbs. olive oil, 1 Tbs. vinegar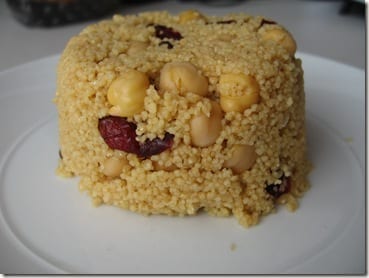 Directions: Bring OJ to a boil, add couscous and immediately take off heat and cover. After couscous sits for 5 minutes fluff with fork and add salt, vinegar and olive oil. Mix. Add cranberries and chickpeas, mix well. Serve and Enjoy!
*************************************
Stop a Bad Day
Warning: This is just a rant about how I fell off the wagon today, feel free to skip 🙂
Today I had what I would define as a "bad eating day". For some reason I ate my lunch at 11am, then wanted to eat again around 12:30pm (not out of hunger) and ended up snacking on bars (plural) and junk food.
Boo. I was super upset with myself because I had been doing so well! But, I decided to write down all my eats anyways. It turns out the damage wasn't too bad and even with an afternoon snack and dinner I wouldn't gain 4 pounds today.
The key for me was to write it down and be accountable – NOT just say "F it" and continue to ruin my day even more. Any time I fall off the wagon I usually chalk up the day as a disaster and continue to ruin my diet nice and good so I can start again tomorrow.
Well, today I recorded all the extra damage and ate the rest of the day as normal – not binging, but not starving myself either. And I'm glad I did that or I'd feel either overly bloated and full or hungry and ready for binge #2 if I didn't eat.
Overall, it was definitely more food than I needed (or burned) today, but I am tired and stressed and I'm moving on 🙂
End Rant.
************************************************************
I actually am not feeling ready for my exam and need to get on studying! See you tomorrow morning…
Run SMART Goals
Fill out this form to get the SMART Running Goals worksheet to your inbox!