Oh my gosh! I feel like today was so crazy – I was all over the place, but I did get it all done 🙂 However, I didn't have any time on the computer so I have no idea what's going on in the internet world.
Did I miss anything? Did anyone leave a really inappropriate or racist comment that I neglected to moderate? Because you coulda gotten away with it. Today, maybe.
After my test I ran a bunch of errands. Apparently, I spent most of my Vegas money at Target. In my defense – it's all shit I don't need. Well, maybe I do need a headband with a flower on it for Vegas?
The day was full of impulse buys and one of them were these Veggie Crunchers. See, just add oil to veggies and make them seem like chip. Then, maybe people will eat more vegetables.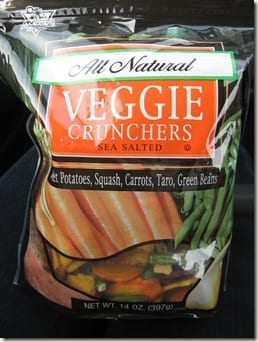 They are just okay, not salty enough for me. I love how pretty they are though 🙂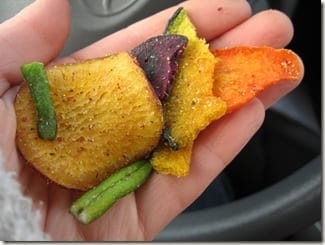 Dinner was a MASSIVE sweet potato and roasted brussel sprouts. I roast my "b-sprouts" at 450 sprayed with cooking spray and salted. I leave them in until they are sufficiently burnt or I run out of patience and want to eat.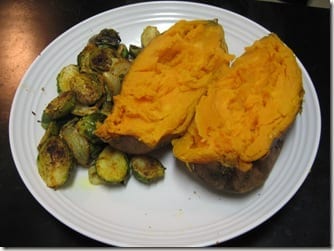 If I am ever in a gang I think my gang name should be "B-Sprout". What do you guys think?
Lunch was boring – veggie burger with carrots and lots and lots of hummus!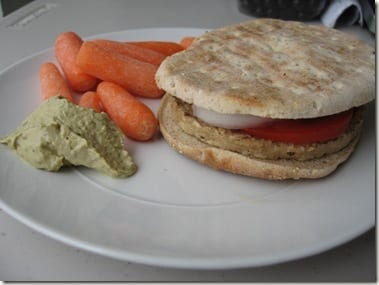 I also snacked on some new Quaker Crisp thingers while driving around town. See the red Clearance sticker? I had to get them.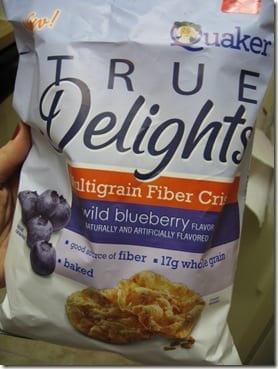 And I did end up having time for a mani-pedi. See how much better my hand looks compared to this morning's photo? **But, I am worried that I am going to get an infected toe because of my ingrown issues and it's going to get into my blood stream and I'm going to die in Vegas. "No, I'm not a hypochondriac! Who said I was?!"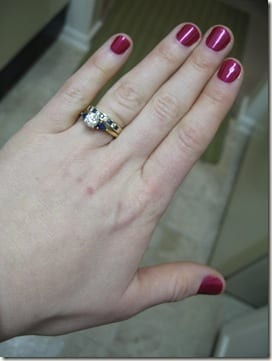 I am all packed up and ready to head outta here.  I have to be at the airport by 7:30am tomorrow morning. I may hit up a Spinning class at 5:30am or just do some exercises at home – I can't decide. I want to make sure to get some exercise in because I'll probably be "resting" Saturday and Sunday.
I will probably see you next in Atlanta (my lay-over)!
Run SMART Goals
Fill out this form to get the SMART Running Goals worksheet to your inbox!