I used to dread social gatherings because it meant I didn't have control over the food that would be there. I turned down so many invitations because of this and looking back on it now I really regret that.
I have finally come to realize that food and drinks are a part of social events. Whoever is throwing the party wants their guests to have a good time and often treat them with yummy food. Your fellow party goers also want to have a good time so they are enjoying the offerings.
There is nothing wrong with that. How I handle the situation is up to me. I can either avoid the party and draw a line between me and my friends or I can just relax and enjoy life (and sometimes life includes cake!).
Now, I love getting together with my friends and family. I don't stress about the food. I go and enjoy the food I like – sometimes I indulge heavily other times I try to be a little more conservative. But either way – my food choices don't dictate if I have a good time or not.
I bring this up now because when I am visiting family they often want to take me out to eat. (As much as I hate that things have to revolve around food I don't think these people would rather take a walk with me.)
So, I just go out and enjoy the company and the food. Life is short, and I don't want to miss out on being in the moment with my loved ones because I was obsessing about the menu.
Question: Does anyone else worry that there won't be food they can eat at a party or restaurant?
This morning my mom and I took a walk before she had to leave for work. Then, I got Matt ready for school and they were off.
But, the cable guy came shortly after (he was coming between 8 and noon) and I wasn't able to do my March Challenge exercises. I decided to eat breakfast and do them after he was set up.
I found this hot cereal on Clearance and thought I'd give it a try. I haven't been into oatmeal lately and was hoping I would at least like this stuff.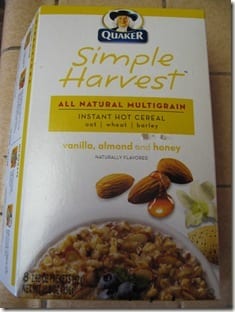 I mixed a packet of the Simple Harvest with 1/4c plain oats and water. Cooked in the microwave and then added a pineapple flavored yogurt. Yum!
The dogs got to enjoy some treats while the cable guy was in the house too 🙂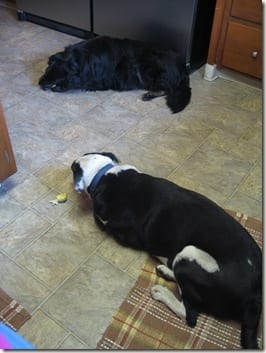 See ya later 🙂
Run SMART Goals
Fill out this form to get the SMART Running Goals worksheet to your inbox!