I think all entree salads should be BIG HUGE. And I love making my own salads and throwing any and all random fridge goodies right in 🙂 There is something so satisfying about throwing all your produce in one big bowl and everything melding well.
The highlights of today's mix included spinach, tomatoes, salsa, onions, beans, cheese and tortilla chips. For some reason I love tortilla chips, but could take or leave potato chips.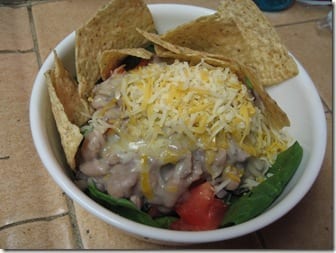 Mid-afternoon I had a piece of bread with PB&J (no pic) and some popcorn. For some reason I have been craving popcorn since my layover in Atlanta on Friday – I think I passed by some place that smelled like it.
Running Hiatus – Yesterday was the first time since I was banned from running that I actually wanted to run. I haven't missed it much because I can't run outside in MD right now and really don't enjoy the treadmill. So, the timing is at least good for this lay-off.
Yesterday as we were driving through CA with the sun shining I thought, "I wish I could go for a run tomorrow…"
Boo. I am really really sad about not being able to run, but I just haven't let myself think about it. Up until now I've been distracting myself with new gym classes and knowing it's so cold out makes me want to stay inside anyways.
But, today was rough and I am very depressed about not being able to run. I am scared I am losing fitness and that running will be unpleasant when I start again.
Okay, that pity party is over.
I am still really tired today. I guess I am still recovering from Vegas 😉
Totally.Worth.It.
Run SMART Goals
Fill out this form to get the SMART Running Goals worksheet to your inbox!