Today's Weight loss Wednesday story features – Amanda…
Here is Amanda Before and After: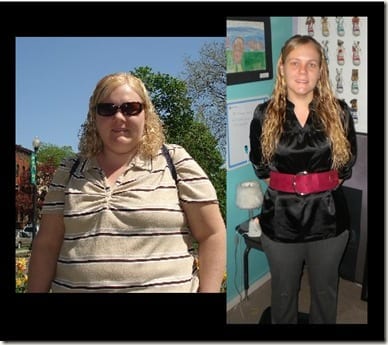 · How many pounds did you lose? 106.2 lbs and counting
· How long did it take? 2 years
· Where are you from? NY
· Occupation? Administrative Assistant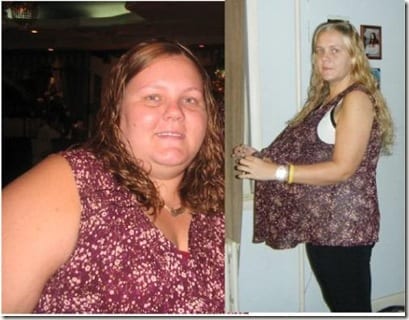 What was the motivating factor that got you started on your weight loss journey? Was it one thing or a series of events?
The motivation to lose weight this time around was my brother's wedding. His then fiancé sent me a t-shirt with BRIDESMAID across the front. The shirt was a size XL and it didn't fit. I went to the bathroom and cried. I was 276lbs; that moment I vowed that I wouldn't be the 'fat' sister in all of the wedding pictures. By the time the wedding came around I lost 50lbs and my dress went from a size 26 to size 20.
What do you think was the one most important change you made? How did it help? Can you keep this up for life?
The one most important change I made was from within. It has taken a long time but I finally love myself unconditionally. Realizing that I am not perfect and I will mess up really helped push me over hurdles in my journey. I have never once given up on myself. There were months that I lost & gained the same 2 lbs but I stuck with it and here I am 106lbs lighter. I know that I can keep this up for the rest of my life because I owe it to myself & family to be healthy. My 11 year old daughter tells anyone that will listen that her mom has lost over 100lbs. Knowing how proud of me she is helps fuel the fire.
How did you change your eating habits?
I lost my weight by following the weight watchers program. I had success with the program years ago and I knew it worked if you stuck with it. Through WW I have learned about portion control and choosing the right foods. I went from eating fast food several times a week to cooking all my meals at home. I went from eating zero fruits & veggies to eating 5+ servings a day. I do not rely on frozen meals and I am on a quest to cut out most processed food (it's hard!).
How did you change your exercise habits?
I was a complete and total couch potato. The first 8 months of my weight loss journey I did no exercise. After my brothers wedding I needed a new goal to focus on. At this time I came across the Couch to 5K program and the rest is history. Thanksgiving morning 2008 I ran my first 5k in 39:02. A year later I ran the same 5k and finished in 29:57. I ran my first half marathon in October and I am running the Disney princess half marathon on March 7th. Running is my passion. I can't imagine my life without it.
How do you plan to maintain these healthy habits?
I plan to keep the weight off (and continue to lose) by using the tools learned from WW and running. I used to beat myself up when I ate something I "shouldn't" have. I no longer think like that. There is nothing wrong with indulging a little as long as you get right back on track the very next meal. I want to become a better runner and I know that the more weight I lose the faster I get – total motivation!
Do you have any tips for RER readers who want to lose weight?
My tip for anyone wanting to lose weight is to take it one day at a time. It won't be easy. I still struggle 2 years into my journey. You have to truly want it for yourself. You deserve to be happy & healthy.
*********************************************
Congratulations and Thank you so much Amanda for sharing your story 🙂
If you have a weight loss success story you'd like to share please email me at runeatrepeat@gmail.com.
Run SMART Goals
Fill out this form to get the SMART Running Goals worksheet to your inbox!