I woke up today feeling stressed out. I hate that! It's because I have a lot of things to do today and they will bother me until I am done.
I made breakfast before working out this morning. My body is "off" from the long day of traveling last night. I ended up eating an apple on the way home and then grabbing half a bagel when I home from the airport.
Breakfast – egg sammie with an orange. I used Laughing Cow spread on the bagel thin, ketchup and hot sauce. So good!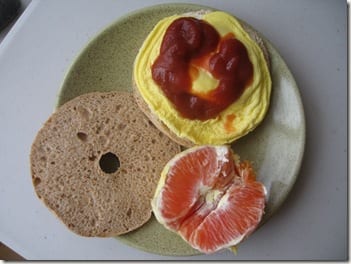 That's a lot of ketchup!!!
I like the bread a little burnt 😉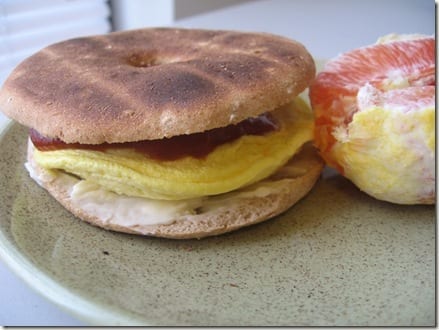 Okay, I need to get on my way! Here's the agenda:
– Kickboxing
– Groceries (we have no veggies and only oranges for fruit)
– Physical Therapy appointment
– Blogging, catch up on emails (my computer died on the plane last night and I didn't get halfway through)
– Bills
– Babysitting
– Dinner and relaxing with Ben 🙂
Breathe – My article on Intuitive Eating is in the Spring edition of Breathe Magazine. It's on stands now, but you can read it online here!
Happy Happy Friday!!!!
Run SMART Goals
Fill out this form to get the SMART Running Goals worksheet to your inbox!