Morning friends 🙂 I woke up bright and early for Fitbloggin!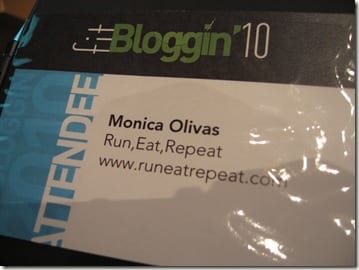 I actually woke myself up out of a dream because I was laughing. Has that ever happened to you before? I was laughing with my friend and actually woke myself up laughing so loud. Weirdest wake up ever 🙂
I decided against running the Fitbloggin 5K because I didn't want to subject my fellow bloggers to my stink all day. I don't care if I run 3 miles or 13 – I sweat a lot. A LOT. Just ask the guy on the side of me at the gym who I accidentally flick sweat on whilst attempting a jog on the treadmill. Never mind, don't ask him. I am guessing he's not my biggest fan…
I grabbed a handful of trail mix, showered and raced out the door. Katie from Katemotivate offered to drive me to the conference since I don't the know area too well.
We made a necessary pit stop at DD 🙂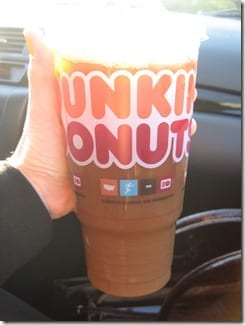 Quaker hosted the breakfast – YUM! This reminds me I'm out of maple syrup – oh no!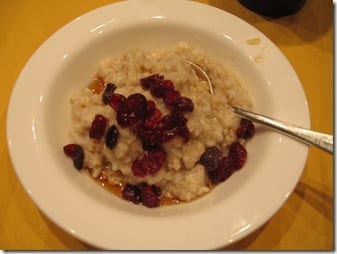 Right now I'm in Session One: Blogs, Accessibility and SEO: Dispelling the Myths. Presented by Scott Stawarz
I managed to take a picture of Scott dancing…
"Hip hop hooray! Ho! Hey Ho…" Kidding 😉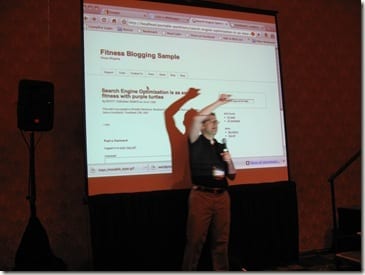 See you in a bit with more dish and pictures (via my old camera as my fancy new SLR will not be here until Wednesday. Great timing, I know.)
Happy Saturday!
Run SMART Goals
Fill out this form to get the SMART Running Goals worksheet to your inbox!