When you are eating do you save the best part for last?
Most of the time I eat a few bites of my favorite part of the meal. Then, I eat all the stuff that's not my fave and save the last bites as the best ones.
Tonight I left a few chickpeas at the end of my salad and a BIG, delicious bite of this…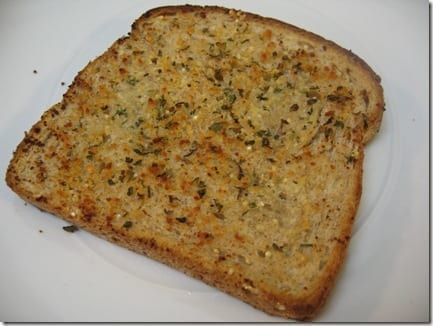 But – with trail mix I do the opposite. I pick out all my faves and eat them first. Then, I'm left with a bag of cereal that used to have nuts, dried fruit and other goodies. Boo.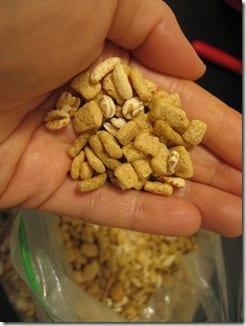 Tonight I kept dinner on the lighter side with a big salad and garlic toast. I planned on having a protein shake while watching Lost.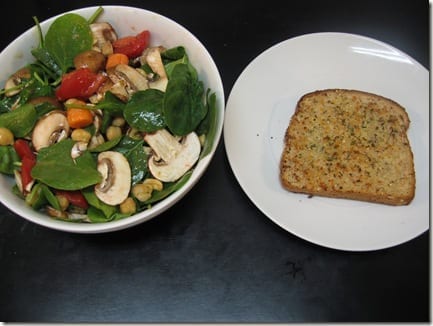 But, I ended up getting distracted and by the time Lost was over I opted for the rest of my fruit salad from earlier and above mentioned trail mix.
My afternoon snackage was yogurt with cereal.
How exotic, I know… but I am lost with what to eat as a snack that is A.) High in protein and B.) Something I like. For now yogurt is the only thing that occurs to me. I might start making smoothies? I dunno.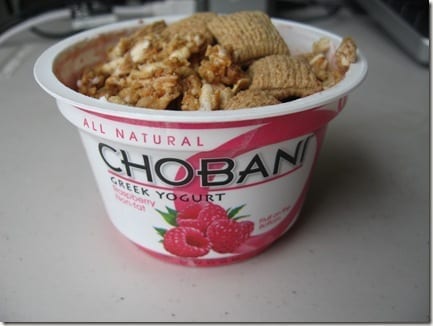 Question: Do you save the best for last?
Me: Like I said, I do but I don't think that's very smart on my part. Because at the end of a meal if I am full I will still eat the rest because it's my favorite part! I need to eat more like a finicky cat and less like a starving alley cat…
Oooh you know what's another good bite to save for last? The very middle of a cinnamon roll…YUM! Someone (me) needs to go to bed before she starts thinking about getting her hands on one of these…
This was what we had for breakfast the first half of our trip in Belize. Good times…
Run SMART Goals
Fill out this form to get the SMART Running Goals worksheet to your inbox!