I am reading Naturally Thin and am really liking it! Yesterday I got to a section in the book where you fill in things about your eating habits, food preferences and food philosophy.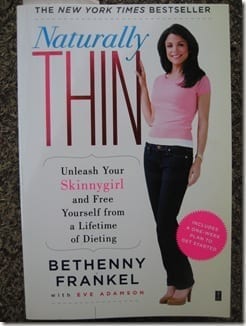 That last one stopped me in my tracks. I mean, I have a food blog, I have very strong views on food issues, yet I haven't voiced my "food philosophy".
*Because I'm a runner I think food is fuel.
*Because I have a history of binge eating, emotional eating and defining  myself based on the scale and size of my clothes – I also think food can be frustrating and overwhelming.
Thus, it's hard for me to wrap up my Food Philosophy in a tidy little package for the blog, or more importantly – for myself.
So, I broke it down:
1. I like food. I like to cook. I like to eat delicious food.
2. I prefer food that makes me feel good. I want to run faster, jump higher, have more energy and I want foods that help me with that.
3. Too much sugar makes me feel like crap. I am against factory farming.
Ultimately, I whole heartedly agree with Pollen's eat "mostly plants" view.
My food philosophy today: "Food is fuel and should taste good AND make you feel good. I eat healthy, whole foods 80% of the time; fun stuff 20%."
I think I change this a bit as I go along, but really try to be healthy most of the time – and stick to my guns about not eating things that make me feel like crap or don't taste good.
Run: I started the day with a 4 mile run. I cut it short because I want to hit up Kickboxing today. I haven't figured out how I'm going to balance my running schedule with KB yet, so today I will try to do both!
Do you ever do two workouts a day? If so, why?
I don't think it's the best idea for me, but I love running and KB so much right now!!
Breakfast: I made an Ezekiel muffin with almond butter/ ICBNB with stevia and cinnamon for breakfast.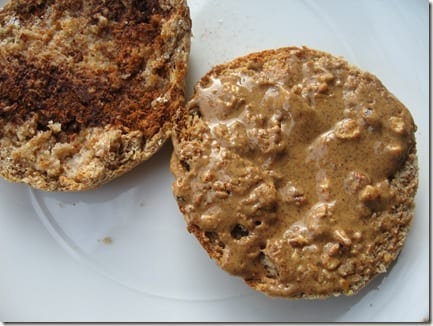 What's Your Food Philosophy???
Run SMART Goals
Fill out this form to get the SMART Running Goals worksheet to your inbox!