I have a lot of food related guilty pleasures…(hence the reason these damn 10 pounds stick around no matter how much I run).
Like whole veggie pizzas, just for me…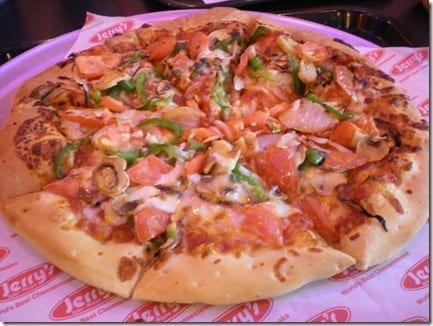 And so much frozen yogurt I would definitely beat Man vs. Food in a YogurtLand competition…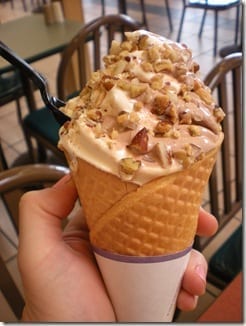 But, I also have a non-food related guilty pleasure…television. I like TV! I look forward to relaxing and watching trashy reality show re-runs on the weekends. I used to watch TV while on my treadmill, but since I don't own one in MD I can't do that anymore.
Sure, I can watch "The View" at the gym, but it's not the same. Anyways, I thought I'd come clean with this indulgence that makes me happier, not healthier 🙂
What's your non-food related guilty pleasure??
Unfortunately, there are no good shows on Mondays 🙁 So last night I was stuck watching a random cop show on cable. But tonight it's all about LOST.
My breakfast included my latest food related guilty pleasure – TJ's Almond Butter. I like PB, but I am obsessed with this AB. I have never went through jars of nut butter so fast! I don't share this with Ben either (that is probably the most guilty part). Love. LOVE.
Three jars are necessary because 1.) is ready to be oats or yogurt mess in a jar 2.) is the one I'm currently eating 3.) an emergency jar so I don't run out!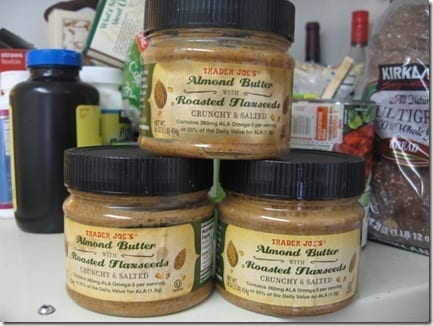 I topped my oatmeal with a generous scoop of AB this morning. I may or may not have also stole a few bites from the container. I check and rechecked the label to see if there was any sugar or crack that makes this so addicting, but nope.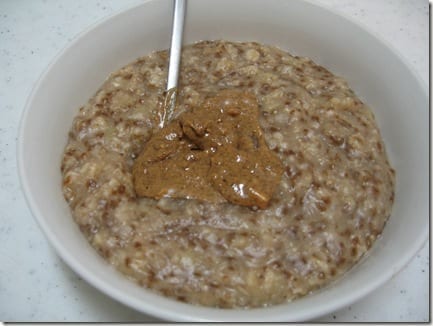 Run: This morning I woke up bright and early to bust out 5.8miles. I miscalculated the route and meant to do 6, oh well.  My time was slower than yesterday, boo.
Run SMART Goals
Fill out this form to get the SMART Running Goals worksheet to your inbox!