I used to read the message boards on a fitness magazine website. There were a lot of girls/women that were either trying to lose weight or trying to recover from an eating disorder. Obviously, the combination made for some "stressful" comments.
Anyways, on the message board I learned of "The Love Child". The recipe is Kashi GL Crunch cereal mixed with heated PB, Mix; Add cottage cheese, Mix again. Enjoy.
This snack is amazing and has tons of protein, fiber and fat = super filling.
My afternoon snack was inspired by The Love Child. I chopped up an apple with cinnamon and stevia. Heat until soft.  Add some AB while it's hot. Then, topped it off with cottage cheese and cereal/trail mix…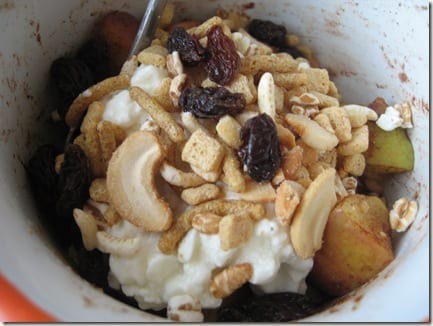 I may have added more AB, cc and cereal half way through! Yum!
Lunch: I ate breakfast at 8am and was hungry at 10am today. I tried to push off my hunger for a bit (which I talk about in my latest Breathe post).
I ended up breaking for lunch at 11am. The oatmeal with AB lasted me three hours, but I wish I ate a breakfast that lasted four. Really though, I don't think that's ever happened. Maybe my body just gets hungry every three? And that's okay if it's the case. I just want to be sure 🙂
So, I'm gonna try and pay attention to when I get hungry after a few different breakfasts.
I heated canned soup, a veggie burger and rice chips.  Not as exciting as the love child, boo.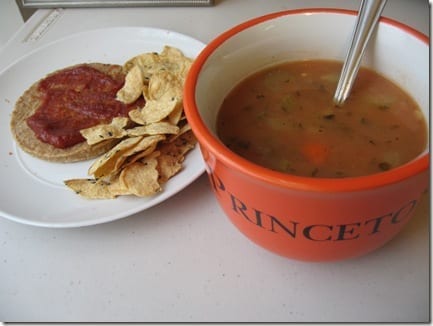 Dinner was also anti-climactic – veggie stir-fry with roasted chickpeas…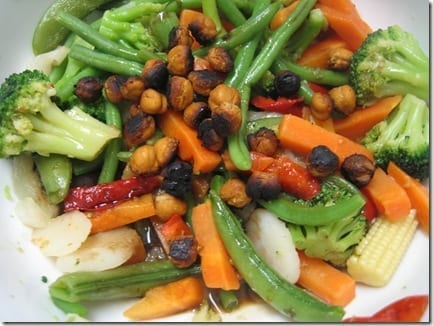 and half a grilled cheese sandwich.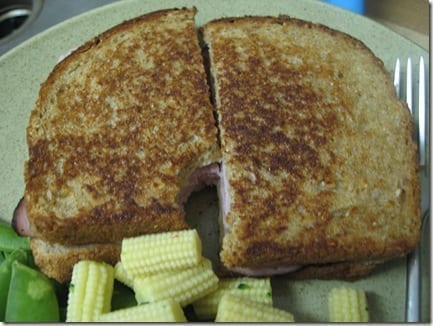 After dinner Ben and I had a long chat about my "messed up eating" past and stuff. It may not be the best idea in the world for someone with a history of BED to read food blogs all day. So, I will be scheduling one hour a day for reading food blogs from now on.
Right now I randomly check Google Reader when I have a few minutes. It doesn't help me overcome the last few hurdles in recovery, you know?
Question: Do you do a morning snack or early lunch?
Oatmeal is one of the more filling breakies you can have and it lasts me three hours. I think the same goes for EZ bread with AB. I want to experiment with eggs too…
Run SMART Goals
Fill out this form to get the SMART Running Goals worksheet to your inbox!