There are certain places you should always "wrap it up". Like, half your meal at Claim Jumper (BIG Portions!) or certain body parts in Las Vegas (so everything that happens there does in fact, stay there).  Unlike, embarrassing photos that can spread like wildfire… 
But, I digress…Another place you need to be "covered" is the locker room floor. The warm, wet and highly trafficked gym room floor is a breeding ground for athlete's foot or warts!
Today I forgot to pack my flip-flops in my gym bag 🙁 I was about to just skip the shower, but I had an errand to run and have a little condition called "HBO" = Horrible Body Odor. Don't you judge me either.
So, I got creative and used two plastic bags the gym offers for swimsuits or wet clothes. These worked great in this pinch! I was able to take a quick shower and avoid rubbing my feet on communal property.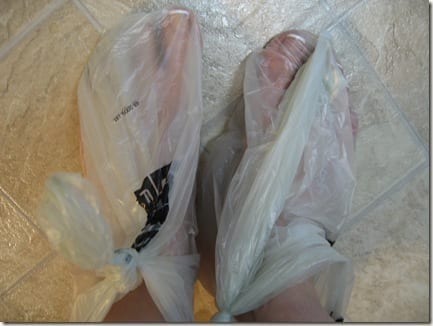 This morning Ben woke me up bright and early because he had an early meeting. Since I was up with time to kill before Strike! I ran an easy 3 miles.
Breakfast: I think I am re-addicted to The Love Child. Because although I had planned breakfast, all I wanted was this.
I used the rest of the cottage cheese in this container and just added the goods.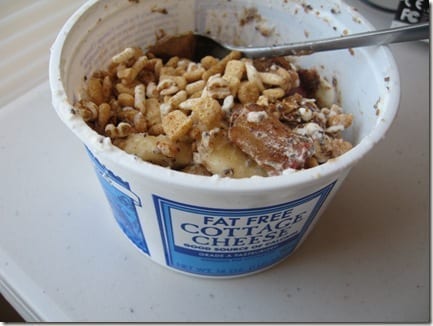 In the mix: half a large apple nuked with cinnamon and stevia, Almond Butter, half a banana, Kashi cereal, cottage cheese. More Almond Butter. Eat 🙂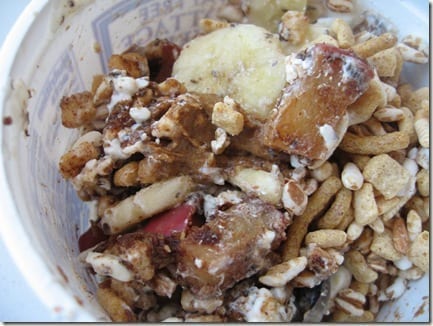 I am experimenting with how long different meals keep me full. Usually I get hungry three hours after breakfast. That was also true today, but I was out and about until noon. I'm still figuring out morning snack versus early lunch…tbd.
Lunch: When I got home I was super Hungry! I quickly  made an egg scramble with tons of veggies for volume, eggs, Sharp Cheddar and hot sauce.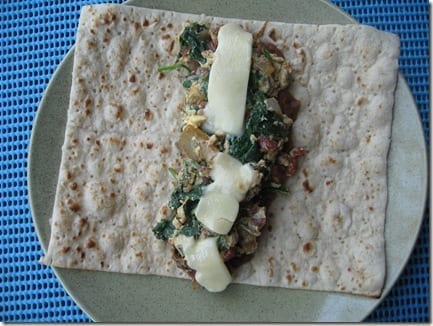 I spread some refried beans on the wrap before adding the scramble.
All together with crisps. Finally full 🙂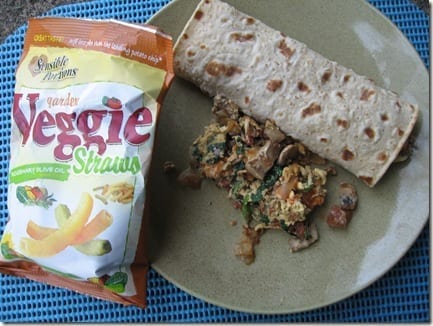 Today is my last day babysitting the girls 🙁 I really love them, but I always intended it to be temporary (until we moved). Since we're not moving in the end of April after all I have some time to get a "real" job here.
I'm very bad with good-byes (no matter how long I've known someone) and am sad.
We'll see what happens next I guess…
Run SMART Goals
Fill out this form to get the SMART Running Goals worksheet to your inbox!