Sometimes I'll read blogs and see a day's eats and think, "I would love to eat all the same things tomorrow."  Or, "That is exactly what I want to eat…"
Wait, does anyone else do that? No? Okay, now I'm embarrassed 🙁
Anyways, lately I've been coveting my neighbor's food. For some reason I feel like I eat most like Taydor Tott and I wish I could hang out with Heatherbakes and eat good Mexican food from her local haunts. I used to eat the best Mexican food in CA, but I'm sure TX has some great stuff too!
And I owe my recent inspiration to add more protein to Janetha and cut back on sugar to HEAB. 🙂 Sometimes blogs are a positive influence and other times they just make you crazy, ya know?
This morning I was happy that I could enjoy a leisurely breakfast before Kickboxing. I think I've finally figured out my running & KB schedule.
This week I definitely overdid it with the running and ended up doing a few miles Monday through Thursday. Busted.
But today it was just KB 🙂
Breakfast: I had a very ripe cantaloupe that need eatin'. I used a pineapple Chobani yogurt, chia seeds, Kashi cereal and some almond slivers. This breakfast made me perfectly full and kept me full through KB and until around noon!
Lunch: After KB I hit up the grocery store and ate samples as my lunch. What? I may not be classy, but I'm honest.
Actually I got hungry around 2:30pm and made a massive taco salad. On a bed of spinach: mushrooms, shredded carrots, salsa, black bean salsa, refried beans (from a can, don't tell my abuela), cheese, chips. Then, hot sauce.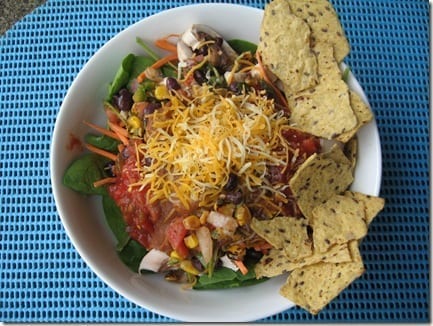 I discovered TJ's black bean and corn salsa (in the refrigerated section) and it may have changed my life.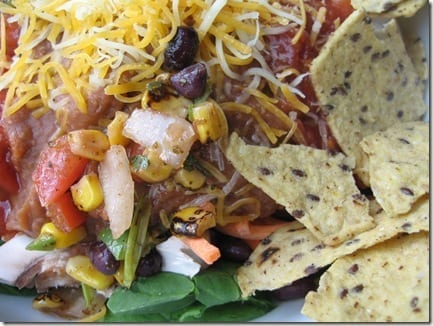 Question: Do you have a food blog twin?
Run SMART Goals
Fill out this form to get the SMART Running Goals worksheet to your inbox!