Remember how I recently decided to add an afternoon coffee break to my life? Well, I was very happy to read that a noon time coffee is the best time to some java! This article says coffee with lunch helps reduce the risk of diabetes. I dunno, it sounds too good to be true, but who am I to question science 😉
This afternoon I snacked on iced coffee, a vitatop, watermelon and a handful of granola.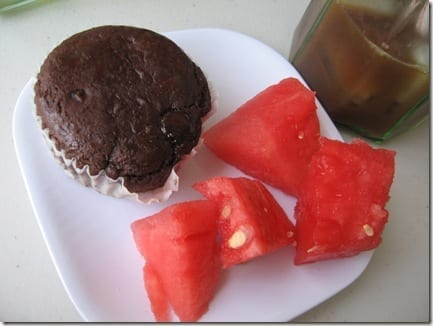 My Dinner: I had to use my last fake chick'n breast before going out of town tomorrow so I incorporated it into dinner. A massive salad topped with my new fave protein source and half a sweet potato. As good as this looks this dinner is not as good as Ben's…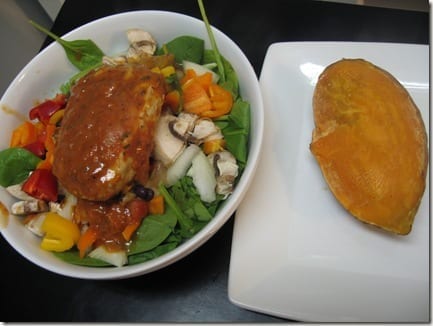 Ben's Better Dinner:  I cooked salmon in olive oil and Old Bay. (I usually just buy the frozen salmon from Costco and am happy with it.)
Then, I topped it with homemade tartar sauce. Easy tartar sauce: mayonnaise, diced pickle plus a dash of the juice, lemon juice, salt and pepper to taste.
Cheesy Parmesan Rice a Roni (the San Francisco treat) as a side. It was amazing and I stole some of course. You guys know salmon is the reason I am not an official vegetarian.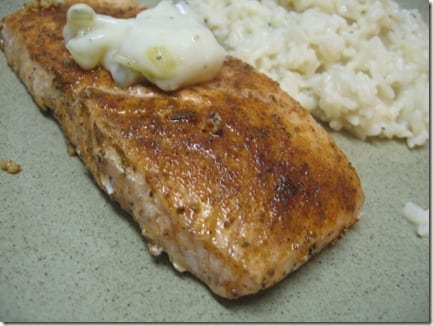 I had one Dove promise for dessert and now I am off to pack for my trip.
See you tomorrow!
Run SMART Goals
Fill out this form to get the SMART Running Goals worksheet to your inbox!