My lunch was caught, cleaned and cooked within two hours of eating it! Talk about fresh!
Ben's dad and brother (Jon) caught Snapper, Whiting and Mackerel. I couldn't tell what kind I ended up with, but either way it was great!
Caught
Cleaned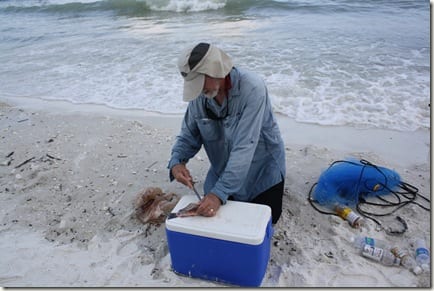 Cooked!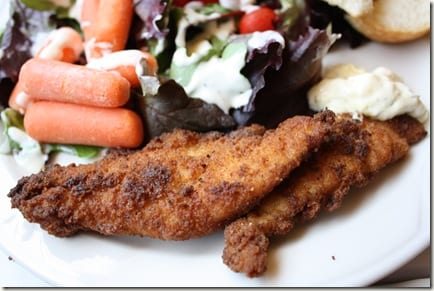 As you may know, I am pescatarian.  I believe eating "mostly plants" is the best thing for your health, but I also avoid meat because I don't support the treatment of the animals we use for food.
I do think I would eat chicken if Ben killed it in a humane manner (notice how I didn't volunteer myself). I know there is free range options, but I am poor and don't miss meat enough to pay for that.
I just wish there were more opportunities for me to have fresh, local fish like this. I also believe that you should only catch (or kill) what you are actually going to eat.
– End of random thoughts in my brain. –
My plate had salad, a roll with butter and fish. They use real butter here, and they use it very generously. We forgot to pick up more butter at the store and Ben's mom said, "We can't live without butter!"  She was dead serious.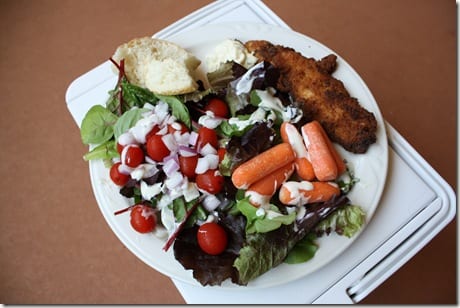 I also had dessert in the form of watermelon and a cookie.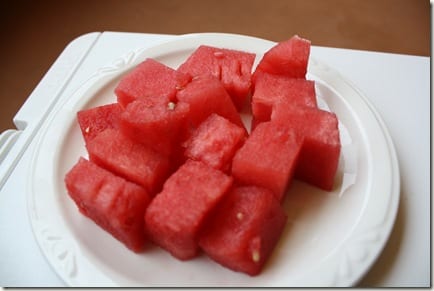 *Now that I think of it I ate 3 un-pictured cookies today. I don't think that it's that big of a deal, but it's unaccounted for and the reason my weight loss not happening.
We picked up dinner at the airport. Fort Meyers is a pretty small airport and our choices were very limited. I chose a multi-grain bagel with egg and veggies. It was just okay. I'm kinda disappointed since I love bagels too.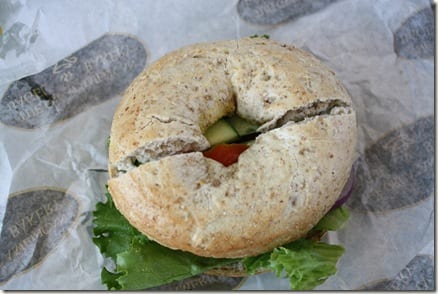 The view from the inside 🙂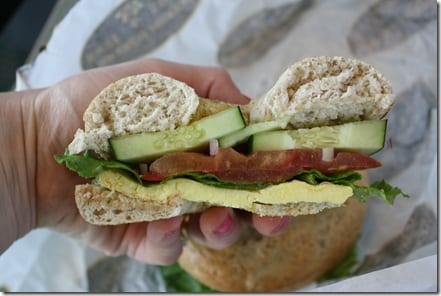 I am very happy to be traveling with Ben on this leg of my journey. We've both been traveling for work alone a lot lately and I miss having a flight buddy 🙂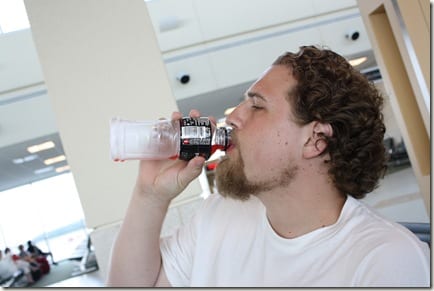 Snacks on a plane!
I brought an apple and a SB bar to go along with my complementary diet Coke during the flight.
BLTs = Bites, Licks, Tastes…
– Kashi GoLean Crunch out of box while contemplating life what to make for breakfast.
-  3 Cookies: 1 Fig Newan, 1 Newman sandwich cookie, 1 homemade cookie
– Cherries
– Handful of chips
– Bite of a hushpuppy. I had never tried one before and loved them! But, I'm not surprised I would love something that is basically fried bread
Question of the Day:
1. Do you eat meat?
– If so, do you avoid vegetarian blogs or people?
– If not, why? Is it for health or ethical reasons?
My answer: I eat fish, eggs and dairy. For me it's for both ethical and health reasons. I try to buy organic and free range dairy and eggs when I can. But, I also think a mostly veggie diet is very healthy and makes me feel best 🙂
With that being written, I don't judge anyone for their food choices. It takes all kinds and I know I'm not perfect. So, do what's best for you and don't worry about the rest.
Run SMART Goals
Fill out this form to get the SMART Running Goals worksheet to your inbox!