One of my big goals of 2010 is to run a marathon in under 4 hours! It's a goal I hate to even admit on the blog because I know it's going to be very very hard for me and I am very very scared :/
But, I came clean with my goals toward the beginning of the year so I might as well share my plan for accomplishing this dream with you.
Yesterday I was going through our huge pile of mail that came in while I was on vacation and was happy to see my latest issue of Runner's World had arrived. I was flipping though it and stumbled upon a plan to run a four hour marathon!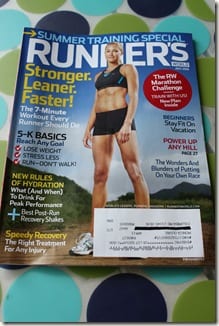 It must be a sign! So, I decided to just bite the bullet and plan to run my next mary in under four hours following this plan with a few modifications for my life, travels and body.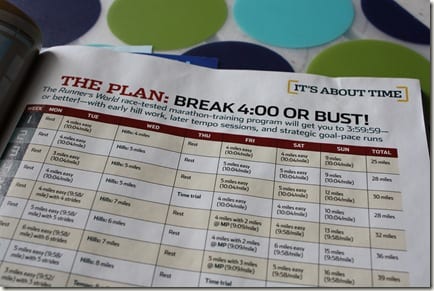 I am excited. I am scared. I will be writing about my training here 🙂
I have only run 2 marathons so far. My PR is actually my first marathon at 4:15!
But, my most recent mary in January was 4:27 🙁 I  blame the time difference on
a.) being sick and b.) not training enough (darn winter in MD)
I know I have a very long and hard road of training ahead of me, but I'm at least going to try and go for it. I really wanted to run Long Beach in October, but think I need to do at least one half mary before I do another full. But, there's one problem – I cannot find a half marathon in SoCal in Aug. or Sept (except for the AFC in San Diego the weekend I'm out of town, fail).
Please let me know if you are aware of a half marathon within 200 miles of Orange County in late July to Sept. Thanks!
I will make my final decision on my next full marathon around whether or not I find a half marathon before Long Beach which is Oct. 17th.
I didn't have time for breakfast before Strike! this morning, so I just chugged some iced coffee and called it fuel.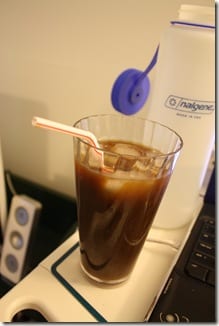 When I got back I made a big smoothie with protein powder, ice, almond milk, spinach, chia seeds and xantham gum.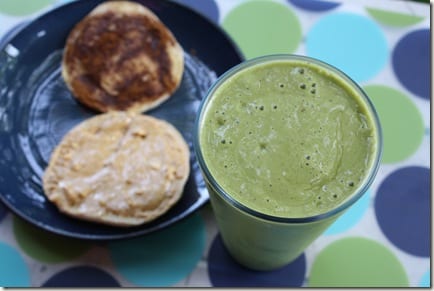 Plus a sandwich thin with PB on the side. Trader Joes is out of my fave Flax Almond Butter again 🙁 They have been really failing me on this lately. Boo.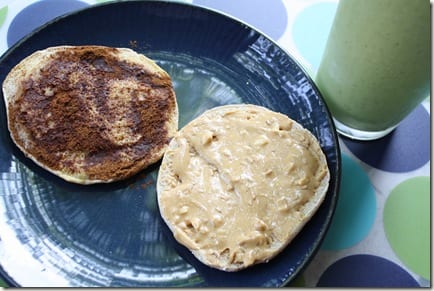 Now I am off to meet my friend Kristin for lunch 🙂 See you later gators…
Run SMART Goals
Fill out this form to get the SMART Running Goals worksheet to your inbox!