I look forward to Friday Kickboxing class each week! This is definitely my favorite group fitness class ever!!!
I only discovered KB a few months ago when I joined my gym and fell in love. I'm studying to become a personal trainer, but what I really want to do is teach kickboxing 🙂
These classes are in the usual gym group fitness room. The instructor plays great music and really pumps you up. Most people wear weighted gloves, but there are no boxing gloves or punching bags or anything like that. All you need for a good KB session here is motivating music and your body!
I chatted with the instructor after class and she said she learned everything she knows from taking classes and gave me some tips. She was really encouraging too 🙂
After KB I had some errands to run. I brought a bar and watermelon as a snack.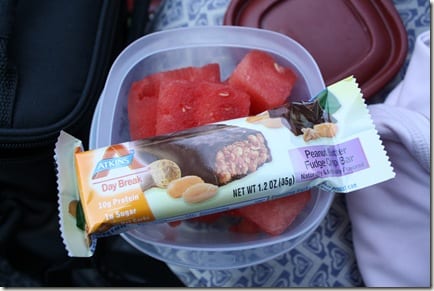 One of my stops was a health foods store. I picked up a Kombucha as a treat. I know they have gotten mixed reviews in the blog world, but I really like them! Heck, I better like them for as much as they cost!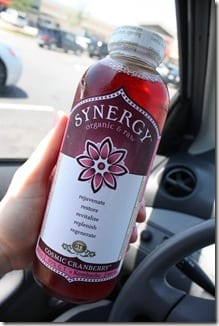 Once at home I snacked on some chips and guac while making lunch.  I knew I wanted to pack veggies and protein in this meal because dinner may be out and an egg scramble is a great choice to hit both these bases.
In the mix: onions, mushrooms, bell peppers, chickpeas and spinach. Then, I added the eggs and topped with ketchup and hot sauce.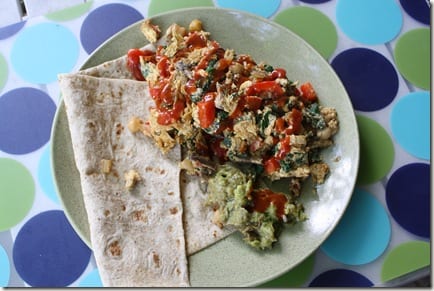 I am putting guacamole on everything lately!  🙂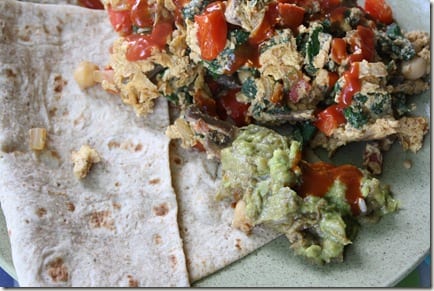 No fork needed when you eat it "Mexican style" – just tear off some tortilla and grab some eggs. Delicious!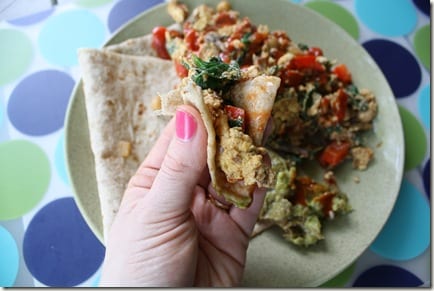 Question: Have you taken classes at the gym?
What's your favorite one?
Me: I love love love KB, but once I'm back in CA I'm afraid I won't be able to find a similar class which is why I want to learn how to lead classes myself 🙂
I also love yoga classes from my yoga studio. I can't wait to see them again.
Run SMART Goals
Fill out this form to get the SMART Running Goals worksheet to your inbox!