I've decided to start my training a little early since I will be traveling a bit over the next few months and will miss out on some key runs. Hopefully a head start will relieve some of the marathon training stress! I will be okay with missing some runs or making them up at another time so I can focus on LIVING my life 🙂
I changed the days so that my long runs fall on Saturday and rest days fall on Sundays. This is how I like it because I have one day to sleep in on the weekends plus, Ben and I can enjoy lazy Sunday mornings.
So, today is a rest day! Ha! This marathon training is cake so far 😉 (Just wait until I get to the long runs where I swear I hate running and contemplate quitting…)
In addition to Day One of Marathon Training, I'm also going to change up my fueling for  training.  In addition to breaking 4 hours, I also want to cross the finish line at 145ish pounds (I'm not stuck on a specific number, but want to be 10 pounds less than I was at my PR).
After being out of town last week it was hard for me to get back on track. I was still eating like I was on vacation with too many treats.
The plan is to 1.) cut back on sugar  (I'm trying to keep snacks under 9g a serving) 2.)make sure I'm getting enough protein and 3.) track my eats just like I'm tracking my miles. 🙂
Breakfast – I made an egg scramble with mushrooms, tomatoes, onions and spinach. Served with a wrap.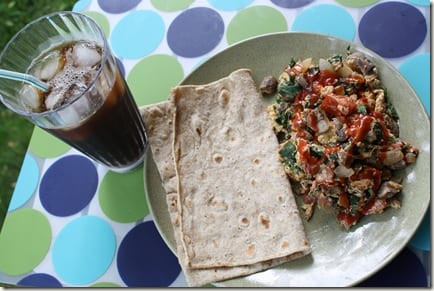 Plus a lot of watermelon. A.Lot.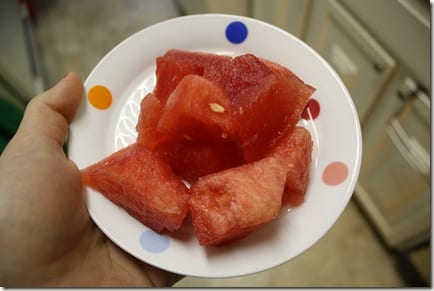 Happy Sunday – relax and enjoy 🙂
Run SMART Goals
Fill out this form to get the SMART Running Goals worksheet to your inbox!