Before my easy four miler this morning I had a few handfuls of Shredded Oats. I love this cereal, but it's too easy for me to grab handfuls throughout the day without realizing how they're adding up (more on this below).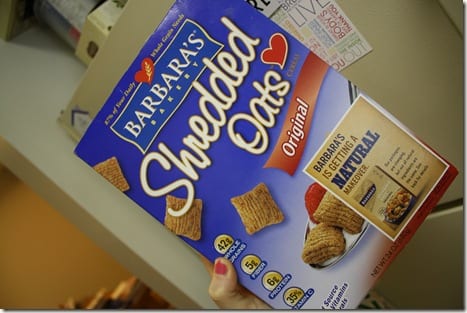 When I got back I couldn't decide on breakfast. I have a lot of stuff I need to eat before we move, but what I really wanted was the one thing I don't have – a strawberry smoothie. Oh well. I opted for a yogurt bowl with a Vitatop and Pepita Sun Seed Butter.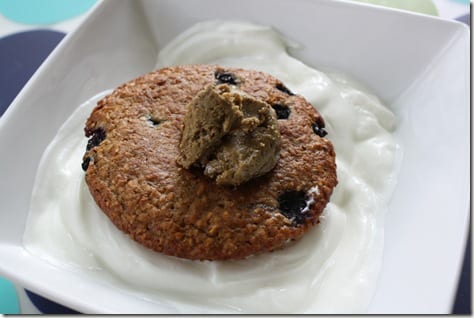 *I also just cut a watermelon and had a bunch of that 🙂
Despite the fact that I'm following Intuitive Eating and have gotten rid of any "forbidden foods", I still have a history with BED – and some of the scars of that remain in depths of my brain.
While I am relatively normal, I still must find a balance between just listening to my body and remembering that I have a history with disordered eating. Intuitive Eating holds that you should not have any "good" or "bad" foods – and I don't.
But, I do still have foods that I consider "Trigger Foods". These are foods that often (but not always) provoke me to overeat and put me in a place I don't want to be.
I don't remember what we were talking about, but I mentioned to Ben that my trigger foods are cereal, ice cream and granola bars.  He pointed out that we pretty much have 2 out of 3 of those things in our house at all times. True.
I don't know if that's a good thing or a bad thing – since I don't label them as "bad" or "forbidden" any longer. But, they still do cause me to go to a place I don't like.
Still pondering all of this, no conclusions yet…
Stressed? Read: Foods that help with stress.
A week from today I will be posting from California! I still have a list of things to do before I get there, so I better get on it!
We can't take everything back to CA so we're trying to sell a few things on craigslist. Let me know if you are in desperate need of an aquarium with fish or dining table and chairs 🙂
Make today a great day!
Run SMART Goals
Fill out this form to get the SMART Running Goals worksheet to your inbox!