Looks can be deceiving… Remember that when you read this post because this bagel/smoothie breakfast doesn't properly display the fact that this Green Monster is about a gallon's worth of deliciousness 🙂
Volume eating to the 1oth degree!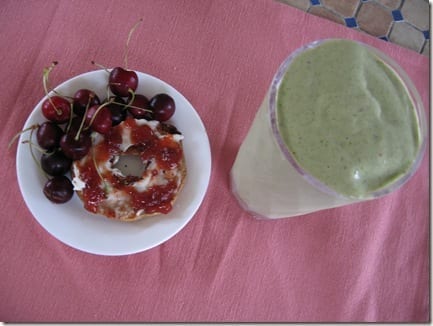 While this looks like a bagel with cream cheese and jam, it's really Laughing Cow and jam. I know, I live dangerously.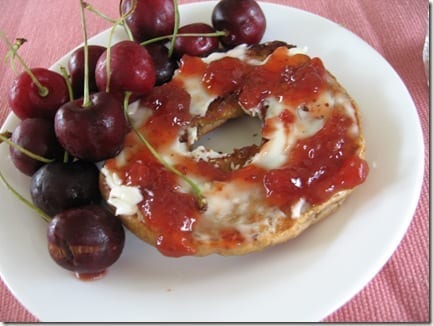 The lack of looks can be deceiving too because there should be a picture of copious amounts of watermelon inserted here. Busted!
Lunch was a hot dog with carrots and bell pepper strips on the side. But this was actually a veggie dog full of imposter ingredients smooshed up to resemble a hot dog!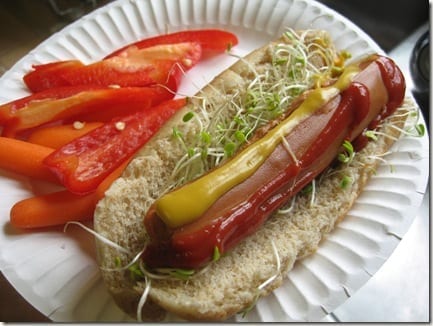 Pop Chips are pretty straight forward, so I guess looks aren't deceiving in this case. Thanks for not sticking with the theme Pop Chips! Hey, you can't win them all.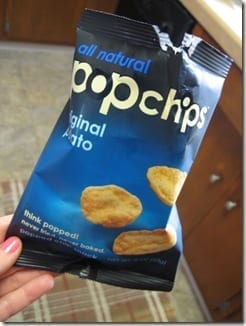 This may look like an ordinary bowl of cereal served up as a snack, but in reality it is my kryptonite and the cereal was able to lure me into refilling this bowl three times. Fail.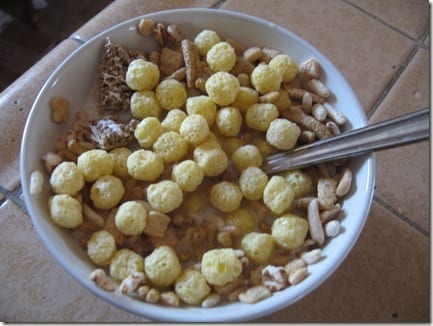 This dinner of green beans and veggie dogs looks like I am on a crash diet a health nut…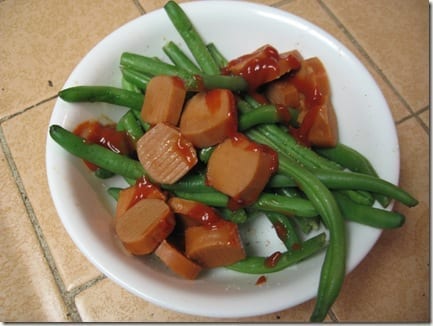 the reality is I only made my dinner "light" because I ate copious amounts of chips and avocado while waiting for Ben to come home for dinner.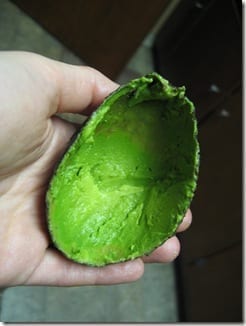 Ben has been working longer hours at his new job and we've been eating dinner really late. This means I end up snacking a ton during my normal dinner and then still sitting down to eat with him. I think I'm going to start eating "dinner" solo around 6 or 7 and then eating a treat (which I do anyways) when he comes home to eat dinner.
I'm trying to find figure out a plan that allows us to sit down and talk, but doesn't mean I'm eating more than I need to out of habit or "just because".
And finally, this may look like a tongue depressor – but it is really the vehicle for tongue happiness = an ice cream bar 🙂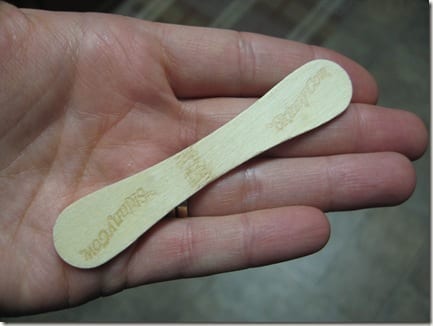 Kitty Update: Unfortunately, the kitty was not doing any better this morning and we had to take him to a local shelter and ask them to help him. The shelter is actually a really good one, where my family has adopted animals and gotten treatment for our animals in the past. They have a full vet office on the premises and we're hoping he will still find a good home.
I feel really bad about not being able to do more, but I kinda don't have a "real" job right now and already have a cat and a dog.
Run SMART Goals
Fill out this form to get the SMART Running Goals worksheet to your inbox!