Last night I carb loaded like I was running a Marathon today. My brother suggested L&L Hawaiian BBQ and I was skeptical at first, but it's his b-day today so I went for it.
The other times I've been there it's all bbq chicken and macaroni salad. But this time I noticed a "Healthy Menu" listing. What?! I was super excited because this is one of those places where I thought I "couldn't" eat healthy.
I ordered the Mahi-Mahi plate. It came with brown rice and green salad. The salad came with a bad Italian dressing, so I used some Ranch we had at home. I LOVE that they had brown rice too!
I hated it 🙂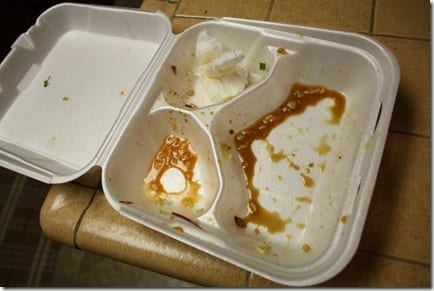 I have missed my "Grizz" this week because he's been working so much and has a very long commute since we're staying at my mom's for a month. Grizz is my nickname for Ben – Doesn't he seem like a Grizzly Bear?
Ben's food – I still stole some macaroni salad because I love it. It's one of the worst things I eat and I'm not going to deny myself.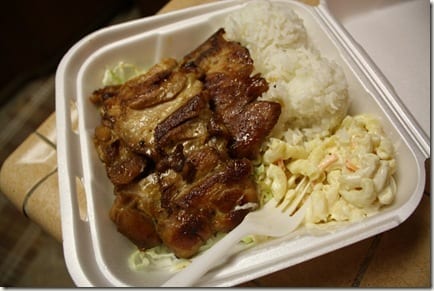 Saturday – This morning I woke up before my alarm. I was ready to run! L&L Hawaiian BBQ may be my new pre-long run ritual!
Pre-run I had iced coffee and toast with almond butter. Same-o same-o, but if it's isn't broke…
Then, I did 12 miles around my hometown. I usually drive to a better long run locale on Saturdays, but today I just didn't feel like adding extra time to my morning.
I tried to get Susan to come with me, but she works today. Boo.  I ended up doing well considering I really wanted a running partner.
But, I realized the double digit rule applies to running too.
My friends and I had a DD (double digit)  rule where we didn't call each other before 10am or after 1o pm. We said it was either too early or too late to have the phone ring. And it was set in stone.
I think I need a friend to run with after double digit miles. Once I hit 10 or 11 miles I get bored and want to go home. I told Ben he's going to have to meet me for the last few miles at least! We'll see if that happens. If not, I may have to finally break down and get an ipod for runs longer than 10 miles. I'm hesitant to do that because I've heard once you have music to run with you can't run in silence and right now I'm fine with it 🙁
After the run I re-fueled with a HUGE smoothie  and half a bagel with cream cheese.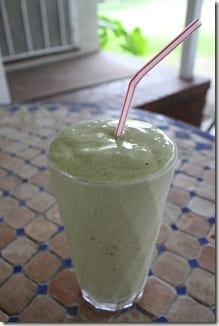 I ate an apple at Matt's soccer game (no pic)
Then, I frosted the Birthday Cake I made my brother Michael. Today is his 24th birthday!!!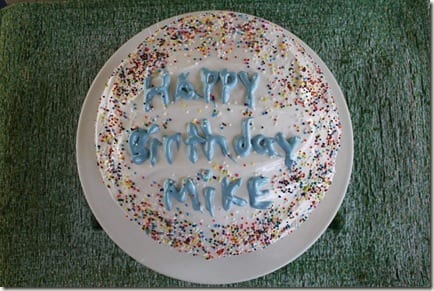 Don't judge the messy word art…
I just used  icing (made blue with food coloring)  in a plastic bag with the edge cut off. Sandra Lee better watch herself because I am good at this Semi-Homemade stuff 🙂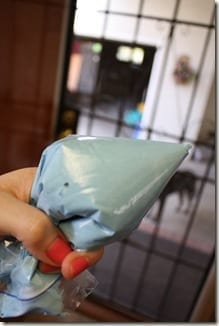 Happy Birthday Michael!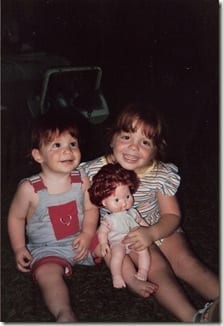 My brother Michael was always my partner in crime growing up. It's not easy being a red-headed Mexican in Pico Rivera, but it was great to have someone who could relate.
Michael and I have very different personalities. I am super outspoken and loud, he is quiet and reserved. Basically, I did the talking for both of us growing up. And that worked just fine 🙂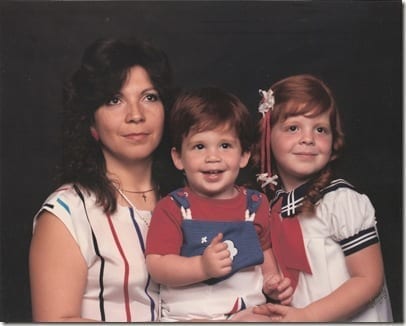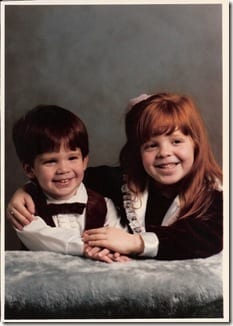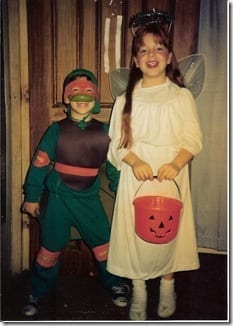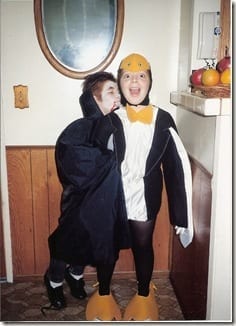 He played football, I was in cheerleading. It was good that we were so close in age and were able to go to the same schools through high school. We had a lot of school pride 🙂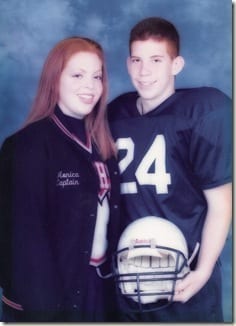 Here's an artsy pic from my wedding – Michael's sunglasses with Ben and I in the reflection.
Happy Birthday Mike – I hope this year brings you tons of happiness, success and fun!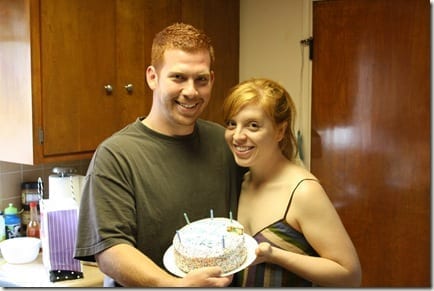 <3 Monic (my nickname, not a typo)
Run SMART Goals
Fill out this form to get the SMART Running Goals worksheet to your inbox!