This morning I had a 13 miler on the schedule, but ended up doing 12. It was hot, I was mad, I'm okay with 12.
Before I left I had some iced coffee and toast with Almond Butter and banana. This is pretty much my "go-to" pre-run fuel every time. I used to be all about Clif bars and got out of that phase. Another random fact courtesy of RER, you're welcome.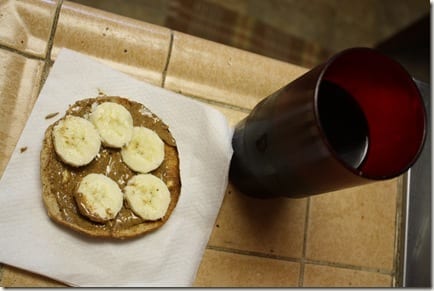 Since I'm living with my mom for July, there was someone actually awake when I left for my run – mom 🙂 She took a picture of me looking optimistic about a good run.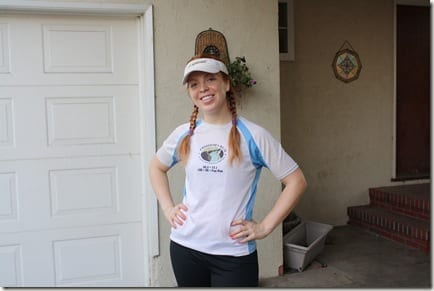 The plan was to run to Susan's and do my last 4 miles with her. I calculated it a bit wrong and got there a mile early (hence 12 and not 13) and she is injured so we had to take walk breaks. It wasn't the best run, but 12 miles in July should still be considered good, right?
But before even getting so Susan's my run was kind of slow. I was very upset (read: Mad) about something and that was all I could think about during my run (read: I really need to get an Ipod so I can zone out to Shakira).
I have found that when I run when I'm mad I feel like I have a weight on my chest, literally. Maybe I hold my breath when I'm mad and don't realize it? I don't know. All I know is I feel like I can't breathe and that makes for bad running (no shit).
The morale of the story is: I am now more pissed at the object of my anger for not only making me mad, but now ruining my run. Watch it.
On the bright side of things: I have a good life and this isn't a tragedy.  Just sayin'
Susan made me a yummy smoothie after the run, but I didn't have a camera so let's just say it looked like this…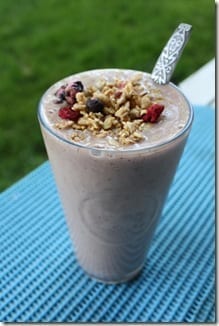 And now I am craving pancakes from a 24 hours breakfast place like Norms, but am not sure if I can con anyone to go with me, so I may just chomp on this until I find a dining partner 🙂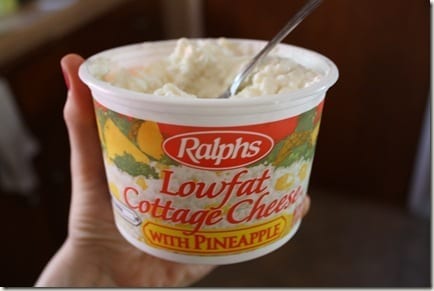 Who wants to join me for pancakes in the middle of the hottest day in July?
(Click here to see the title of that picture)
I don't think I'm "selling it" enough…so I'll just go by myself. More for me.
Run SMART Goals
Fill out this form to get the SMART Running Goals worksheet to your inbox!