I have just resolved myself to the fact that I should happily accept the convenience of frozen foods in my life for the next two weeks.
Convenience is key when you come home starving at 8pm and cooking is not an option unless you want to binge on an entire box of cereal while waiting for water to boil.
Dinner was a double whammy of frozen deliciousness. First, a LC (Lean Cuisine) frozen pizza. It's no Roundtable, but it's better than chomping on 2 whole sleeves of crackers dipped in PB 🙂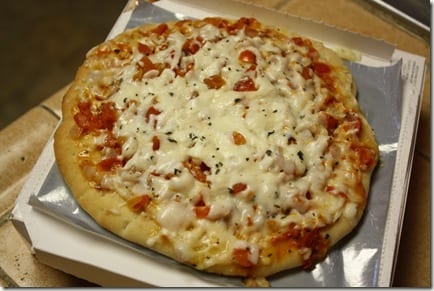 And the best new ice cream find! A chocolate dipped ice cream for 130 calories. If you didn't believe in miracles before you will now. Love it.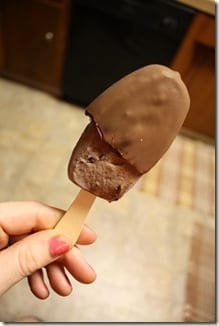 Buyer Beware: This product may cause you to eat ice cream for snacks on a daily basis. Sometimes breakfast too.
Ben and I actually got home before the sun went down and took the dogs for a super short walk around the block (they're used to 2.5 milers). Apparently Ben thinks it's a good idea to take pics of me in the most unflattering angle possible – from behind.
Oh and my cat is dead.
Just kidding, he is just being weird. As am I.
Breathe – Keep the fights clean and the sex dirty. Unsolicited relationship advice from yours truly…
Run SMART Goals
Fill out this form to get the SMART Running Goals worksheet to your inbox!