Hello! Did you guys run a 5K Friday today?! I did. My friend Susan actually met me for a run this morning. I took this pic while waiting for her 🙂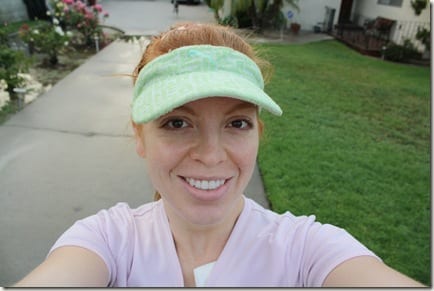 After my 3.1 mile run I made a yogurt bowl for breakfast. Chobani pineapple, cereals, apple banana and almond butter. This was super filling!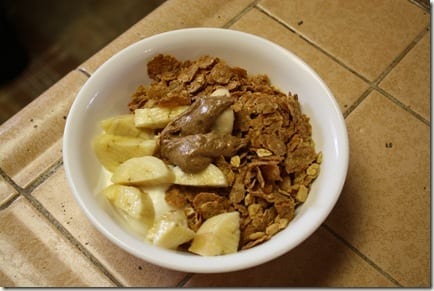 It's so weird that these apple bananas look like bananas and taste like apples!
I took pictures of my lunch in the work lunch room, but realized I really needed to get out of the office for a few minutes.
Someone from another office walked in during my photo shoot and saw me taking pictures, but didn't say anything. They just silently judged me. I am now the building weirdo. It's funny because it's true.
I packed a salad and a lot of snacks! I'll probably have the popcorn or Vitatop with lunch.
Plus a chocolate greek yogurt for protein power. I haven't tried these yet, so I hope they're good.
But, then packed it up and went to…. SONIC. I am obsessed and it's not good for my bank account.
But being outside in Southern California on a beautiful day like this is good for my soul 🙂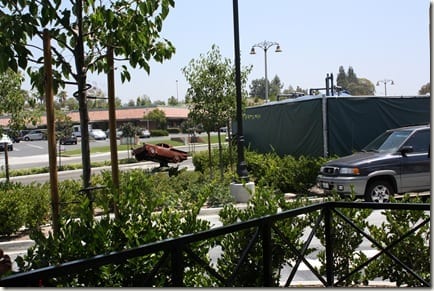 So I'm chomping on lunch and downing too many chemicals in the form of Diet Coke in an effort to keep my sanity.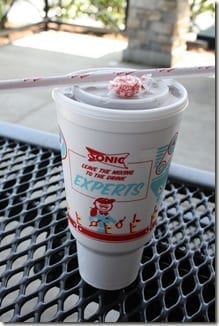 Intuitive Eating – Sorry it's taken me so long to recap my appointment. My heart and head were somewhere else yesterday.
Evelyn and I went over what I think is my problem and she asked me a lot of questions about my eating habits and beliefs. It's so therapeutic to say things aloud.
She thinks I don't eat enough during the day and that's why I over eat at night. I think she is the crazy one. I think I have a bad history of habitual and emotional eating. So, I have homework to figure out my hunger, habits, timing, satisfaction and more.
Can I just say that I LOVE that she is both an R.D. and a therapist. My body and my brain both need work 😉
Intuitive Eating Homework – I have worksheets that I am to fill out throughout the day. I record the time, how hungry I am, what I ate, how satisfied I am and my fullness. All of it is on a scale of 1-10.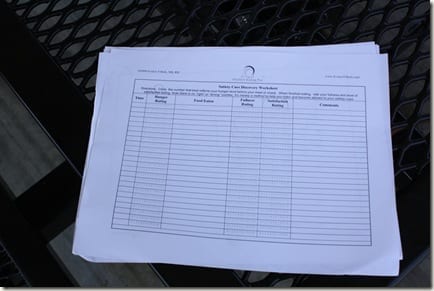 I'm going to do this for two weeks until my next appointment to try and get a better understanding of my hunger and eating patterns. I think this is going to be super helpful for me to get to know my body's needs.
One of the points Evelyn made though was – these worksheets are supposed to be a tool NOT a burden. I will use them as much as I can, when I can – but my life should not change to accommodate them. They should record my life as is, just with the addition of a few minutes of notes each day.
I have another homework task, but I'll talk about that later.
Please let me know if you have any questions. She really wants me to use the blog as a tool and write my little heart out about this journey. Chime in as needed.
Question: Have you ever had a problem that other people didn't think was a problem? What was it?
Run SMART Goals
Fill out this form to get the SMART Running Goals worksheet to your inbox!