This morning I did what I love and started the day with a run. I've decided I like to run 5 days a week and since I can't do KB right now anyways, will start adding more easy runs to the mix.
This mornings 4 miles were even more fun because Susan joined me! I love running with her. Do what you love, right 🙂
Since I'm back on the Intuitive Eating wagon I've decided to Eat What I Love without guilt or apologies (not that I've ever apologized before, but you get what I mean).
I love granola. More specifically, I love good granola. Not that dry "light" granola that just tastes like crunchy oatmeal. I love granola with nuts and dried fruit and honey. I hate that I love it, but I do.
This morning I made a yogurt parfait in a half way full yogurt container.
Piled in: Yogurt, Blueberries, Granola Good Bear Naked Granola, PB Puffins. This was so good and satisfying. If I die of anything, it's not going to be granola 😉 It might be happiness though…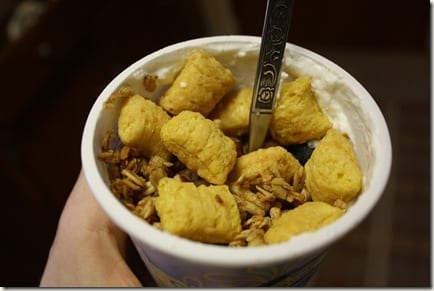 Wear what you love! I found this dress at Marshall's this weekend and snapped it up. I am making a bigger effort to not look like a tragedy all the time.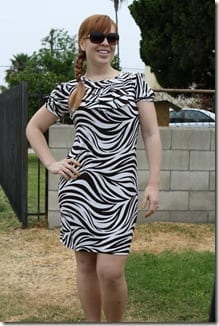 Note: that I still didn't "do" my hair though :)  We don't water the grass because So Cal is a desert anyways…
 Lunch – I packed up an amazing salad today. My mom made a fresh pot of beans (a staple around here) and I knew they'd make a great salad topping!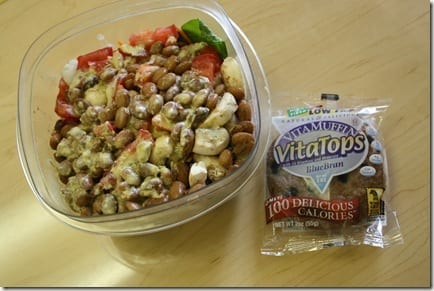 See, there's some veggies under all those pinto beans and hummustard dressing!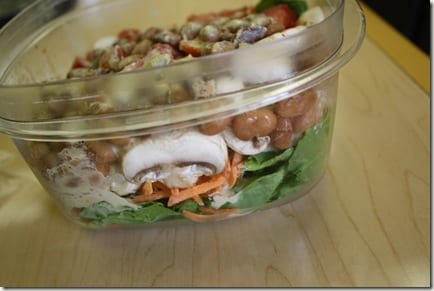 I took my car into be serviced on Sunday and it turns out it needed new brakes too. Ouch. So, $800.00 and two days later I'll be picking it up tonight. Ben and I are still looking for a new car, but aren't sure how quickly we can get one since we're moving in 2 weeks and don't even have a bed or fridge.
Note to anyone moving across the country: You will basically hemorrhage money.
But, it you really want to move. You've got to do what you love…
Question: What do you love right now?
It can be anything at all 🙂
Me: Today I love…
Friendly strangers
granola
Concealer (darn pimples)
Run SMART Goals
Fill out this form to get the SMART Running Goals worksheet to your inbox!