This morning I did my first run around my new neighborhood. (I actually ran here a few times before we moved to Maryland, but that's another story for another day.)
I am convinced that the route I took this morning is all uphill on the way out! Luckily that means its downhill on the way back. I can't complain, but those first 3 miles of uphill were brutal!
Mile 1: 9:11
Mile 2: 9:06
Mile 3: 9:28
Mile 4: 8:27 (Yeah for down hill at the turn around!)
Mile 5: 8:30
Mile 6: 8:56
Post run I came home to the power being off so I couldn't use the microwave to make my planned Vitatop Parfait. Instead I made a beautiful yogurt bowl.
The power was back on shortly after so I think fate was telling me to eat this delicious meal 🙂 I also added some Barney Butter post photo shoot because if I don't have nut butter for breakfast my tummy gets angry.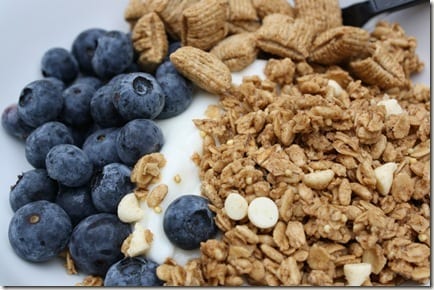 I have convinced my Nino and Nina to come help me with the floors, so I gotta go!
Make it a great day!
Question: What would you eat if there was no power to cook dinner tonight?
Me: Take out.
Ha.
But, if I had to eat something here it would probably be cheese and crackers and fruit.
Run SMART Goals
Fill out this form to get the SMART Running Goals worksheet to your inbox!