I have a long run planned for tomorrow, but after last weekend's disastrous effort 🙁 I think some tips and motivation are in order.
Tips for running in Hot Weather:
1. HYDRATE!!!
Here are 11 hydration strategies from Active.com
2. Wear sweat wicking, light colored running gear.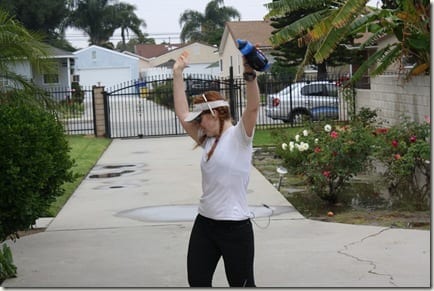 Two words: chafing sucks.
Prevent chafing with sweat wicking gear, Vaseline or body glide and what ever else works for you. Every body is different. Once you figure out where you're prone to chafe try different clothing options and/or slather on the vaseline. The more the better – but be careful because it leaves behind an oily mark on some fabrics.
I know. It feels gross at first. But it's better than skin burns from hell.
3. Fuel well.
You may have only water or a sports drink on your mind in hot weather, but don't fill up completely on liquids if you're running long. You need fuel. Trust me.
I have always been afraid to eat too much during a run, but I really think that hurts more than helps me. Every training run is an effort in trial and error. This is the time to see how much food you need when you're out there.
I actually think it would almost be better to eat a little too much and need a bathroom break (as long as it's not giving you runner's trots) instead of eating too little and bonking out. But again, every body is different.
4. Take An Ice bath. These are brutal. I do not like cold (remember I moved out of Maryland after 1 winter). But they work.   
Motivation:
I have always loved Nike's motivational ads. They really speak to me and here are two of my favorites…
"You pretended the snooze button didn't exist. You dragged your butt out of bed while others slept. While others ate their pancakes you had a feast of protein, glucose and electrolytes. You double-knotted. You left the porch light on and locked the door behind you.
You ran 5Ks, 10Ks, 26.2 miles. Some days more, some days less. You rewarded a long run with a short run. And a short run with a long run. Rain tried to slow you. Sun tried to microwave you. Snow made you feel like a warrior.
You cramped. You bonked. You paid no mind to comfort. On weekends. On holidays. You made excuses to keep going. Questioned yourself. Played mind games. Put your heart before your knees. Listened to your breathing. Sweat sunscreen into your eyes. Worked on your farmer's tan.
You hit the wall. You went through it. You decided to be man about it. You decided to be woman about it. Finished what you started. Proved what you were made of. Just kept putting mile after mile on your interval odometer. For 25 years, you ran. And we ran with you. How much farther will we go? As far as you will."
– Nike ad I read in Competitor magazine
"All your life you are told the things you cannot do. All your life they will say you're not good enough or strong enough or talented enough; they will say you're the wrong height or the wrong weight or the wrong type to play this or be this or achieve this. THEY WILL TELL YOU NO, a thousand times no, until all the no's become meaningless. All your life they will tell you no, quite firmly and very quickly. And you will tell them Yes." – Nike Ad (I've had this one memorized since Jr. High)
"The prince knelt down and slipped the glass slipper over Cinderella's foot. And it fit just right. In fact, it fit almost as comfortably as the new Nike Air Huarache Plus. Which is built on a woman's last and which has a foot-hugging neoprene upper. So a woman can stop waiting for her stupid prince to come and go for a nice long run instead."
– Nike Ad
Question: Any tips or motivational sayings to add?
Question #2: Who's running this weekend? How much?
Run SMART Goals
Fill out this form to get the SMART Running Goals worksheet to your inbox!