I am notorious for returning to the scene of the crime. If I did something fun, but oh-so-wrong, then just wait for me to return. This goes for races, ex-boyfriends and decadent food.
Today I am coming clean and admitting that after class I made a pit stop for a treat (part of my $10 weekly allowance). I went back to Black Forest Bakery for a scone. Specifically, I went back for their Cinnamon Chocolate Chip Scone. If they didn't have that kind I wasn't going to get one at all – I promise!
But they did. Oh boy, did they ever.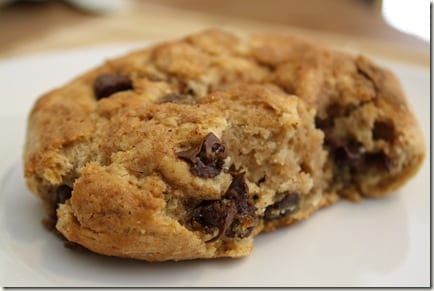 The Cinnamon Chocolate Chip is just like the Cinnamon in that it's super moist on the inside – almost squishy. And the outer ring comes off in chunks to reveal the amazing center.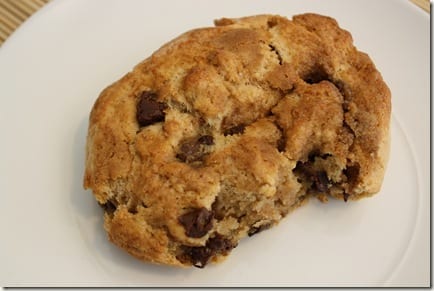 For all you salty-not-sweet people – they also had a Cheddar Bacon Scone that changed Ben's life. It is "the best thing and worst thing" he will ever eat. True story.
But, before my scone extravaganza…
Today is a rest day so I woke up and did 8 minute abs before jumping in the shower. I really want to start doing yoga or strength training on rest days because I think that's what I'm missing from my training program. I plan to start going to yoga when I get back from vacation – especially since I'm back within driving distance of my fave place!
I made a quick healthy breakfast before heading off to class – cantaloupe filled with yogurt, cereals and chia seeds.
So pretty, so healthy 🙂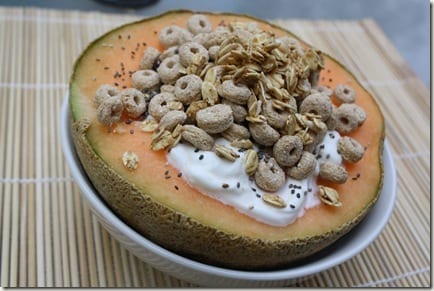 Since I had half a scone between breakfast and lunch I decided to keep lunch on the lighter side with an egg scramble. Tons of veggies cooked up with egg beaters…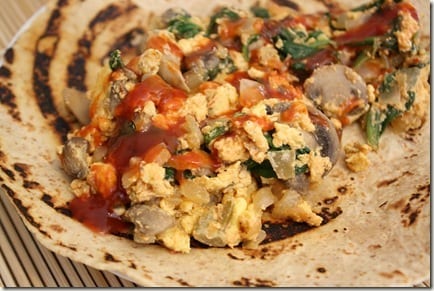 Rolled up in a whole wheat tortilla. This thing was super messy to eat, but it's more fun that way.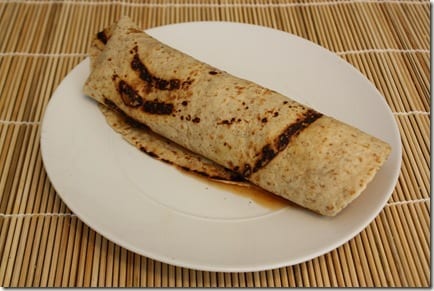 Now I have to head to work. Tomorrow I will be catching up on blog work, emails and homework. Then, Ben and I are off to celebrate our honeymooniversary this weekend!
Remember when I mentioned that we don't exchange presents, we usually go on a trip instead? Well, it's time for our mystery trip and we're leaving Saturday night.
Winner of the Terra Chip Giveaway:
smshah / masterofherromaine -Please email me your contact information.
Run SMART Goals
Fill out this form to get the SMART Running Goals worksheet to your inbox!