I am getting close to taper time for the marathon!  My race is 35 days away to be exact.
Ahhhh! This seemed like a good idea 3 months ago! Ahhhh!
This means I'll be running less and will have more time and energy for some much needed strength training. I am horrible about balancing cardio with strength and want to improve on this. But, I don't have a ton of time or resources so I decided to use something I already have – Jillian's 30 Day Shred.
I plan on doing this dvd for the next 33 days or so. The plan is to do each of the three levels for ten days. I will be taking my long run days off from this (even when they start to decrease) so it will work out to last until right before the race.
I am hoping this will help keep my spirits and motivation high while still letting my "running parts" rest 🙂 If I do feel like I'm not getting enough rest or taper, I'll cut back. I am good about getting enough rest, trust me.
This morning I did Level 1 and took a short walk for some exercise. Then, it was time for a fabulous Sunday breakfast.
I made French Toast with sandwich thins dipped in an egg batter with cinnamon and chia seeds.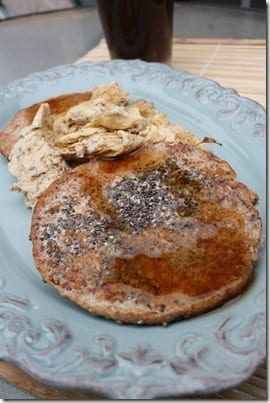 I always cook up the extra egg batter for some extra protein. Yum, eggs with syrup!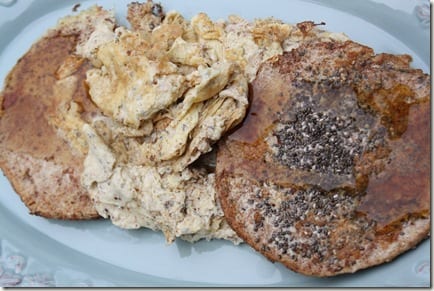 Served with iced coffee 🙂
and freshly cut watermelon. I know H2O melon season is coming to a close, but this one is still delicious!
I like Jillian Michaels. I know her style is not for everyone, but I appreciate some "tough love" from my coaches. I use the phrase "get it together" a lot and I know that rubs some people the wrong way. Well, it works for me because that's the kind of motivation I respond to.
I have been accused of berating myself on RER, but I have to disagree with that. I am a straight shooter and I speak very candidly to myself and on this blog. At the same time, I don't take myself too seriously and a lot of what I write here is meant to be helpful, but also fun and light hearted.
Training for a marathon is no joke. I realize that  sometimes I am hard on myself. And sometimes I'm too easy on myself too. Luckily, I'm a grown ass man woman and I get to be the boss of these things.
I dream of breaking 4 hours in my marathon.
I dream of one day qualifying for Boston.
These dreams will not be accomplished by throwing pennies in wishing wells. These dreams will be accomplished by me training like an athlete, eating like an athlete and treating myself like an athlete. It won't always be pretty, but it will be pretty bad ass.
And that's really what we're all here for anyways, right?
Run SMART Goals
Fill out this form to get the SMART Running Goals worksheet to your inbox!