For those of you that are new to RER let me catch ya up…
I ran the Walt Disney Marathon in January. You can read my recap here.
I had just moved to Maryland when I signed up for the race and it took me a long time to get used to training in a new climate and new terrain. The cold weather really threw me for a loop and I missed too many training runs.
This isn't exactly how I was used to dressing for runs in California…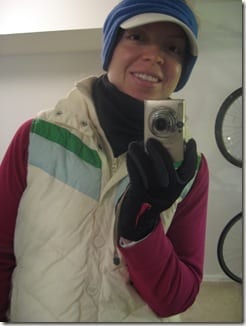 I completed the race, but a few days later I was on a short recovery run and my knee started to hurt. On the next run it hurt more. And then more on the run after that. Until I realized – I was injured 🙁
I made an appointment with my doctor and got an MRI taken of my knee. Finally the diagnosis was made – ITB Syndrome aka Illitobial Band Syndrome. Basically, my IT band was pulling on my knee cap and causing knee pain.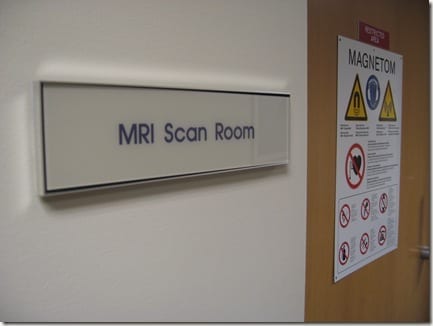 This was caused by a couple factors including weak hips,  muscles being too tight and  not enough training. I also think being a heavier runner contributed to this since I had previously felt knee pain on long runs.
Here are some posts from that time:
Playing it by Knee (where I assume it's ITB)
My First PT Appt – Told to stop running for 8 weeks.
I went to a Physical Therapist and was given strict orders to not run for 8 weeks. I freaked out. No running for 2 months?! How would I survive? How would I avoid gaining the 32 pounds I'm sure I would put on without running? It was not good.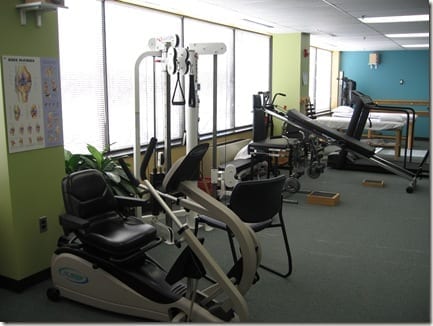 But, I knew that more than anything else I wanted to be able to run again and I wanted to get better. So I listened. I went to PT appointments and did Spinning instead of running. I even discovered a new love – Kick Boxing.
Finally, I was cleared to start running a little bit at a time. One mile, then two and so on. For a long while after my return to running I did not run 2 days in a row. I made sure to take every other day off. I really think it's better to be overly-cautious with your body and injuries.
Surprisingly I didn't lose too much fitness on my time off. I was harder to run, but it wasn't like I was starting from Day 1.
I had to learn patience.
I had to learn how to be gentle with my body.
I had to learn how to deal with missing runs without taking it out on Ben.
And you know what?
I got through it.
I was super upset at first. "The sky is falling!!!" was regularly heard from my mouth. But, the sky didn't fall and I didn't stay injured forever.
In the end, I had to take about 6 to 8 weeks off running. They told me 8, but I think I cut it short a bit. I had to build back up slowly and listen very carefully to my body when it said to stop or slow down.
Now I do feel my knee bother me on very long runs, but it's more of a "tired pain". And when I feel that I slow down. I also make sure to ice my knee if it's feeling bad. And I would STOP IMMEDIATELY if I were to ever feel that same kind of pain I felt when I first got injured.
It is not worth it to run through pain if you want to run tomorrow or the day after that. Stop if you feel injured and live to run another day 🙂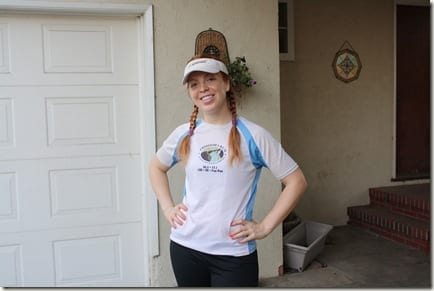 To be honest, I am worried about how my knee will feel on race day. I haven't ran anything over 20 miles since the marathon that I believe initiated my injury. I know races are harder on your body than training runs because you run faster and longer. But, all I can do is train well and play it by ear on the day of race! I will do a race report after Long Beach and let ya know what happens.
If you have any more questions feel free to leave them in the comments or email me.
Question: Have you ever had a running injury?
What was it and how did you recover?
Run SMART Goals
Fill out this form to get the SMART Running Goals worksheet to your inbox!