Ever since I had them at the airport a while back I have been craving steel cut oats. For some reason I love oats cooked in a big batch. I think they just get creamier than my usual microwaved bowl.
Last night I put 1 cup steel cut oats, 4 cups water, 1 banana, a lot of cinnamon and a dash of salt in the Crockpot and set it on Low. I turned it off when I woke up about 7 hours later. Went for a run and came back to breakfast!
The only back thing was it probably cooked a little too long. The edges seem burnt and are stuck to the pan. Next time I will use one of those disposable bags or spray the pot before I fill it.
I had to pry this piece off to show ya. That's not going to be fun to clean up.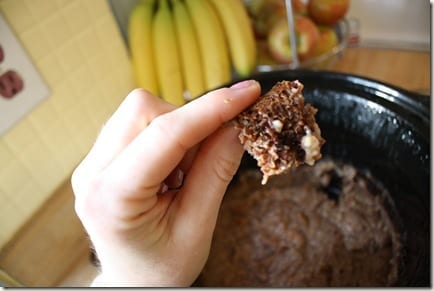 Especially since we've already established I'm no Merry Maid 🙁
Maybe I can hire this guy to help me…
(source)
I topped my bowl with granola and almond butter. That recipe was supposed to give me 4 servings, but I think I eat more than one serving at a time because there's definitely not 3 left.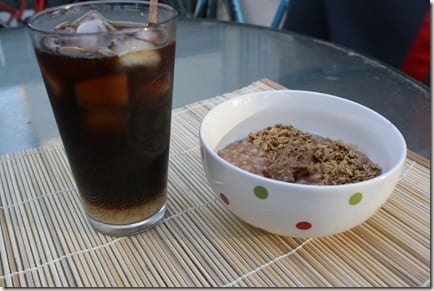 Run: Before I had fantasies of scantily clad males coming to my house to clean my steel cut oat mess I ran 6 miles. It was rough 🙁 My legs still feel tired from Saturday's 19 miler and my quads were killing me. I think I averaged almost 10 min. miles.
I am loving Monday Mini-Goals! After setting my goals last week I realize they need to be tweaked. That's the beauty of weekly goals – you can change them every seven days based on your schedule/how your body feels/weather/whatever!
I think Jillian's 30 Shred is a little too much for my legs on an everyday basis. This week my goal is to do it 2 times.
But, I did realize my abs felt weak and I start to hunch over on long runs. I think I need to work on this more, so I'm adding this into my weekly goals.
Monday Mini-Goals 9/20/10
1. Spend 2 hours each on Monday and Tuesday preparing for exams.
2. Get 8 hours of sleep.
3. Do 8 minute Abs every day after work/school and S-T-R-E-T-C-H!!!
4. Brush teeth after dessert.
***Updated to add: I threw my sombrero in the ring for the Next Food Blog Star. You can vote for me here.
Question: What are your goals for this week?
Run SMART Goals
Fill out this form to get the SMART Running Goals worksheet to your inbox!