The theme of today is quick and easy. I had 5 minutes to make and eat breakfast so I threw cereal, chia seeds and almond butter on top of what remained in my pinapple cottage cheese container. I actually love this combination and plan of getting more pineapple cottage cheese asap!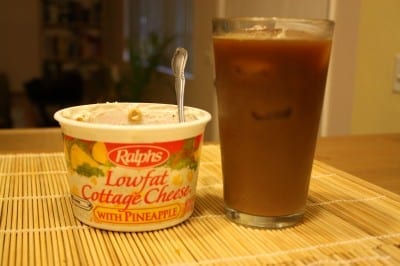 Served with iced coffee. I actually made coffee last night so it would already be cold and ready for drinking this morning. Quick and easy!
Run: This morning I did a quick and easy 4 miler before school. I hope to get in some abs tonight after work as that's one of my weekly goals.
I'm also quick and easy 😉 Not in that way. My quick and easy beauty routine – face lotion and a headband. Who needs makeup or hair brushes? Not this girl.
Then, I rushed off to school where I took a test that was neither quick nor easy. And I have another one tomorrow. I think I'm growing an ulcer in my tummy. I hope this doesn't affect my quick and easy bathroom breaks.
At lunch time I found myself on the way to work without a packed lunch. Not okay. Luckily I dug the Subway gift card I scored from the Healthy Living Summit out the depths of my purse and used it. Since it's a gift card it doesn't break the "No eating out in Sept" rule. Boo-ya.
I ordered a tuna foot-long on their new Omega-3 bread. This bread is completely covered in little grains and I loved every bite. I would definitely order this again.
I asked the sandwich artist to give me 3 scoops of tuna instead of the usual 4 spread over the foot-long to lighten it up a bit. I love tuna, but don't love the calorie count. Rather than order something I don't want, I order my favorite and make small tweaks 🙂
On the side I had chips and carrots. I didn't mean to eat the chips, but this is a new flavor and I ended up really liking it!
Now I have work until 6pm then homework time. Hopefully it will all be over quickly and easily so I can get back to blogging 🙂
Quick and Easy Question: Chocolate or Vanilla?
Run SMART Goals
Fill out this form to get the SMART Running Goals worksheet to your inbox!