I hit the Mother's Load!
For various reasons I've had a very stressful week. Today after school I picked up Ben from work (carpooling). It was almost 7pm at that point. I had no desire to cook dinner (even though I had tofu squeezing all day). And Ben said he was starving.
I talked him out of a burger joint drive though pretty easily, but talking him into my reunited favorite vegetarian place was hard.
Luckily, he was starving and in no condition to argue.
As soon as we got there he ordered a milk shake.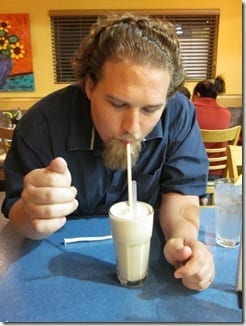 He ordered the Amaretto Mudslide and it was delicious!
Since I felt guilty about cheating on my "no eating out in Sept." challenge I decided to get the special. Truth be told I was eyeing the Lentil nut Load anyways 🙂
I started with a garden salad with tahini dressing.
and a piece of Mother's bread. It's hard to tell in this picture, but this slice was over an inch and a half thick. That jam was amazing and I licked the container clean.
My Lentil Nut Loaf was stuffed with lentils (obviously), veggies and nuts. Nuts added a fun crunch to the chewy loaf.  I wasn't the biggest fan of the potatoes, but Ben thought they were good.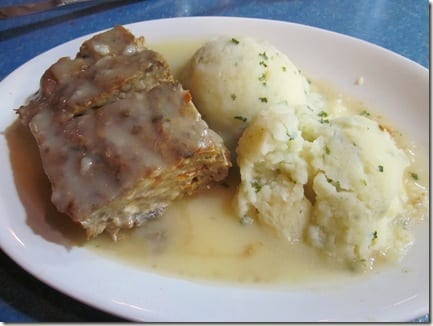 It was was topped with a vegan gravy too.
I looked around the store for dessert, but nothing jumped out at me. I opted for a Vitatop topped with chocolate AB and hot cocoa. I wasn't hungry at all so this completely put me past a comfortable tummy.
Oh, I almost forgot lunch. I ate at home and made a simple sandwich. I was in a rush and ate fast while getting ready to leave. 
and had some grapes while studying.
I also managed to find an old bar in the depths of my backpack as a snack, no pic. I'm sure you're all bummed about missing photographic evidence of a smashed year old protein bar. It tasted as good as it looked.
And my dinner sparked a new goal for me… I want to try everything on the Mother's Kitchen  menu. I seriously already know what I'm getting next time!
Question: Do you always order the same thing at restaurants or try something new each time?
Run SMART Goals
Fill out this form to get the SMART Running Goals worksheet to your inbox!