Remember when I hit up the Asian market for the ingredients for my Thai Coconut Soup?
Well, I also pick up something new for lunch – Baked Tofu. I've baked tofu myself before, but this is the first pre-baked kind I've tried. I recently discovered a love for baked tofu sandwiches so I thought I'd save some time by trying this stuff.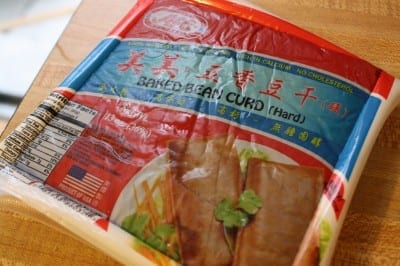 It came in a big slab and I cut a piece to perfectly fit the bread. Then,  I piled it in a sandwich thin with hummus, mustard, lettuce, tomato and onion. It looks kinda weird and I started having second thoughts as I unpacked my lunch to eat at work. Darn. If I didn't like it I would have been stuck with no other food.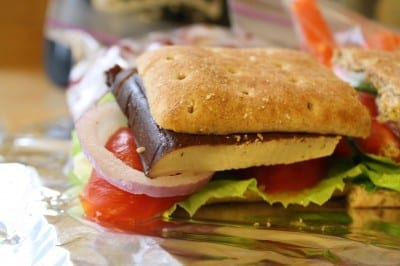 Luckily, I liked it! This kind was unflavored, so it's a little bland compared to my homemade baked tofu. I usually season mine up a lot. But the onions and hummus helped make this a pleasant sandwich experience.
I am trying to have bigger lunches so I don't come home starving… But I just realized I brought 2 forks and not 1 spoon. Isn't that the worst?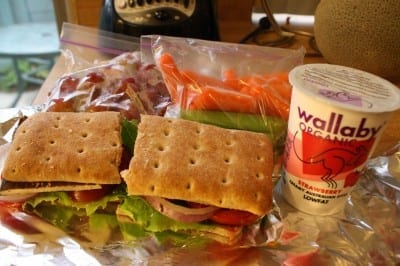 Plus an afternoon snack 🙂 TJ's Peanut Butter filled pretzels!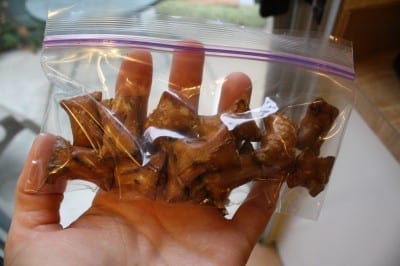 The competition for the Foodbuzz Challenge 3 seems pretty tough! Hope you'll vote for me here 🙂
My thoughts from the Marie Claire drama: I sometimes get emails from readers struggling with eating disorders. I am not a doctor or RD (on a very long road to that one). And I always refer people struggling to see a professional. But, I'm not going to pretend like I don't realize people who have food issues read my blog.
If Run, Eat, Repeat makes you feel… bad, fat, obsessive about food, like you should run more, like you should run at all, like you should have been born with red hair to a Mexican family… please don't read. I truly am not here to make anyone feel negative in any way. Promise.
I talk about my body and my issues to help myself. I am a work in progress and sometimes I write very candidly, using words that might make people uncomfortable. Just like my challenge 3 post, I have to keep it real. I hope my blog and my experiences are helpful or at least pleasant to read 🙂
 Fun stuff: My trail mix was featured on Woman's Day for Snack Smart Friday! 
Run SMART Goals
Fill out this form to get the SMART Running Goals worksheet to your inbox!