My Wednesday just seems all wrong. First, I slept through my alarm. I don't know if I've ever done that before!!! I was seriously shocked when I woke up naturally and noticed light peeking through the blinds. I usually wake up when it's still dark. I immediately got a bad feeling.
I jumped out of bed and grabbed my phone. Yep, totally overslept by 45 minutes! My stomach was in knots because I woke up thinking something was wrong.
Then, I peeked out the window to see rain. A lot of rain. I still changed into running clothes, but was having second thoughts.
Ben usually bikes to work, but since it was raining I gave him a ride.
When I got back home it was still raining and I was hungry at this point. I decided to postpone my run and eat breakfast.
This also never happens. Sure I'll eat toast and PB before long runs, but my day to day runs usually are fueled by what ever I ate the night before and some water and coffee. *I eat a lot at night so I'm never hungry before a run. If I was hungry, I'd eat.
I decided against celebrating Waffle Wednesday. But, if I had this "waffle pop" maker I'd might have changed my mind…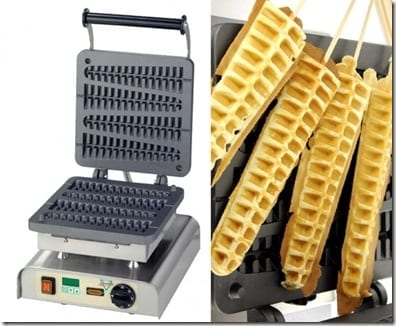 I made an egg sandwich with Laughing Cow and ketchup.
I have some school work to do. Then, I'm going to try and run. I have no idea how it's going to go since I've never eaten eggs pre-run before and I'm not sure when the rain will stop.
I'll report back with successes and failures later 🙂
Hope you're having a Happy Wednesday!
Question: Ever sleep through your alarm?
Run SMART Goals
Fill out this form to get the SMART Running Goals worksheet to your inbox!