Most of the time I prefer lunch to be super quick and easy. I don't have an hour in the middle of the day to cook up a time consuming meal. And I doubt you do either.
Today I have a dinner recipe planned that is not Mexican so I wanted to celebrate Mexican Meatless Monday at lunch.  I considered driving through Taco Bell for my fave Bean Burrito, but knew Mamapea would look down upon that.
Instead I heated up Tomato &  Roasted Red Pepper Soup and "souped" it up with salsa and black beans. Disclosure: I received the Pace salsa for free as part of the Foodbuzz Tastemaker program.
I love this soup, but adding black beans and salsa made every bite better 🙂
And an English Muffin with butta on the side.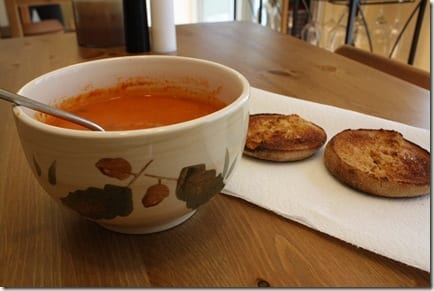 Rewind, since I'm out of order today…
This morning I got in one of my last 6 milers before the race. I normally only listen to music on long runs, but brought my tunes today and loved it! It put me in a great mood and helped me run faster (I've been really slow lately).
When I came home I made a yogurt bowl with: honey almond yogurt, pumpkin, pumpkin pie spice, chia seeds, cereals, banana and almond butter.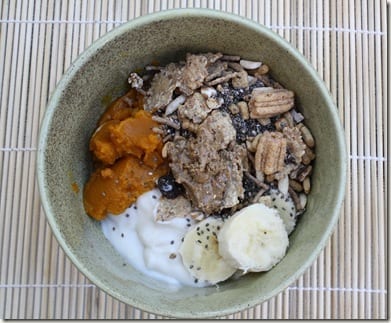 Wow, that's a lot of stuff in there!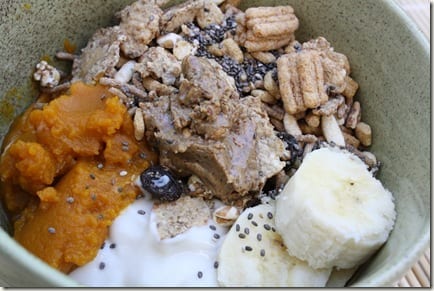 Question: What meal do you spend the least time preparing most days?
For me it's lunch. I usually throw it together in a rush out the door.
Run SMART Goals
Fill out this form to get the SMART Running Goals worksheet to your inbox!